But even if you have decades of experience in the business world, returning to an academic way of thinking and writing isn't always easy. And most doctoral programmes ask you to submit your research idea as part of your application. So we've put together five tips to help you define and write up your research idea:
1. CONSIDER THE QUESTIONS YOU WANT TO ANSWER
If you're thinking about doing a DBA or Executive PhD, you probably know what research domain you want to focus on based on the specific challenges your organisation is facing. But you're about to start an in-depth academic journey which focuses on specific research questions, so a general idea isn't enough.

For example, studying the impact of digital transformation isn't a research question because it's not specific enough. A more specific question in this domain could be: "How can real-world data improve how we assess the effectiveness of drugs in patients with multiple conditions?"
2. IDENTIFY A CLEAR NEED FOR YOUR IDEA
As well as being highly relevant to you and your organisation, your research idea should also be relevant for wider academic and business communities. The aim of research is to develop new knowledge that will have an impact – and your research should answer innovative, ground-breaking questions in your field.

First, read any existing literature that relates to your idea. This will help you decide if it's relevant – and to identify gaps other researchers haven't explored yet. If you can't find anything, it may mean your topic is impossible to study from an academic perspective, or simply isn't relevant enough. Or it could be so ground-breaking that no-one else has thought of it yet – in which case you should definitely pursue it. A good way to find out is to talk to academics within your sector or network and get their thoughts. 
3. MAKE SURE YOU HAVE ACCESS TO DATA
Before you start developing your idea, think about any data you have – or contacts in your network you can speak to – to help answer your research questions.

It's also worth considering what methodology you plan to use. Can you access unique company data? Do you want to send out surveys or carry out interviews? To get the most from your research, you'll need to draw on your existing materials and network – so it's important to identify the best way to gather information early on.
4. REMEMBER, YOUR IDEA ISN'T THE SAME THING AS YOUR PROPOSAL
You need to submit your idea as part of the admissions process – but no-one is expecting you to put together a detailed research proposal. Institutes need to decide if your topic fits with their research expertise, identify an appropriate supervisor and get an indication of what stage you're at in your academic thinking.

Of course, it's important to include enough information. But once you've been accepted, you'll have plenty of opportunities to refine and develop your idea with the help of your supervisors. You won't need to submit a full proposal until you've finished the first stage of the programme.
5. GET FEEDBACK FROM ACADEMICS
You may be an expert in your company or sector – but your academic thinking and writing might be a little rusty. So send academic experts your draft idea and ask them for advice on how to improve it.  Remember, at the end of your doctoral journey, it will be academics who evaluate your thesis – not business people. So the earlier you can get their input, the better.
TELL US ABOUT YOUR RESEARCH IDEA
Do you have an idea you're keen to discuss? Just get in touch with us and we'll set up a skype call. We can also share a template that will help you set out your research idea.

Good luck!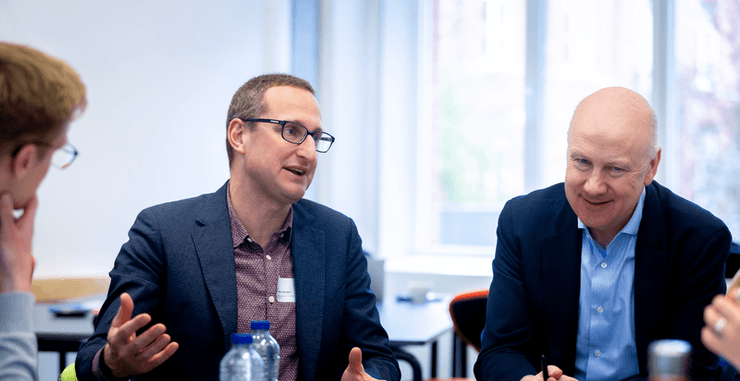 Doctorate in Business Administration
This five-year blended doctoral programme gives you the opportunity to carry out research alongside your current role. You'll live and learn the skills to dive deep into your chosen specialism, so you can take the leap into the academic world of research. You'll develop the skills and approaches to re-energise your organisation with original insights and fresh perspectives.