WHAT'S THE FORMAT?
We've designed the programme so it's mostly self-study, keeping on campus modules to a minimum. You can do most of your work independently – at your own pace and from anywhere in the world. Our online learning platform gives you access to a wide range of resources and preparatory readings – and lets you communicate with faculty, your supervisors and peers and the Doctorate in Business Administration team.
WHEN DO YOU NEED TO BE ON CAMPUS?
During the learning stage, you need to take part in five week-long sessions on the Vlerick campus. These are intensive, residential sessions that include:

• Faculty and peer discussions on methodology directly relevant to your research
• Research seminars
• Coaching sessions

We also hold our annual Doctorate in Business Administration conference during one of the on-campus weeks.
When you progress to the research stage, you won't need to spend as much time on campus. As a minimum, you have to be on campus for the predefence and defence of your PhD. But of course, you may have some optional modules or electives that are campus-based.
FIT YOUR DBA AROUND YOUR SCHEDULE
You can choose to start the programme in March or September – and as soon as you do, you can access the online learning platform.  The introduction module takes place on campus in April or October – depending on your start date. Then you can take the other courses in the order of your choice, so you can fit them around your schedule.

And remember, if you need more than four years to complete your thesis, you can always extend the programme.
TAILOR IT TO SUIT YOUR GOALS
You can adapt the Doctorate in Business Administration programme to fit your personal needs and ambitions. So if there's a module that's not particularly relevant to your research, you can replace it with an equivalent course or get an exemption. You just need get your supervisors and the doctoral committee to approve it.

There are many activities and conferences you can participate in – both online and offline – so you can truly become part of our research community. And of course, your supervisors and guidance committee will support you throughout, whether you work on your thesis remotely or on campus.

You can choose different electives to tailor your learning journey. For example, if you want to pursue a career in academia, you can join teaching skills courses and attend academic conferences. If your goal is to move up in the professional world, you can take part in business conferences or specialist field-specific courses. It's entirely up to you.
YOUR DBA, YOUR WAY
Wherever you are in the world – and wherever you are in your career – the Doctorate in Business Administration programme can work for you. If you're ready to learn more, you can visit our website.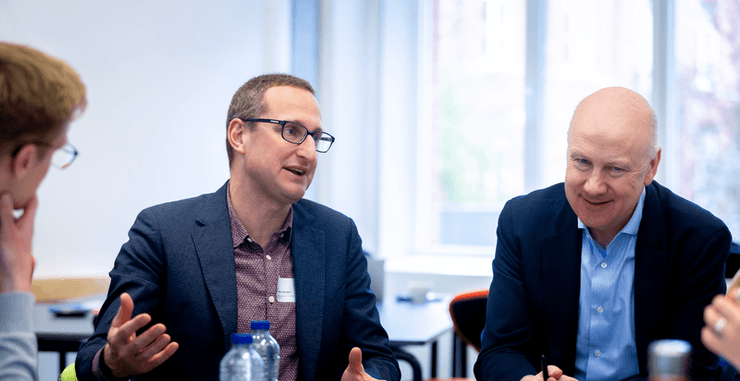 Doctorate in Business Administration
This five-year blended doctoral programme gives you the opportunity to carry out research alongside your current role. You'll live and learn the skills to dive deep into your chosen specialism, so you can take the leap into the academic world of research. You'll develop the skills and approaches to re-energise your organisation with original insights and fresh perspectives.