I have a small family – me, my wife and my four-year-old daughter Isabella.  In late 2018, after receiving an exciting acceptance letter from Vlerick, we thought that it would be nice to have a family experience abroad – even though we knew it wouldn't be an easy task.
There were two critical things we needed to do:
1. Find the right school for my daughter
2. Arrange visas and documents for my wife and daughter
In this post I explain how to go about doing these things – and share some tips I picked up along the way.
Key tip: Before you start to look at schools, you need to decide in which municipality (or commune in French) to live. It makes life easier if you choose a municipality that processes paperwork quickly. There are 19 municipalities in Brussels. In some, the registration process for foreign nationals is slow and time consuming. Vlerick will be able to tell you which municipalities are more efficient which will help you move through the process more smoothly.
FINDING THE RIGHT SCHOOL
Finding a school place in Brussels can be extremely challenging. There are several aspects you need to consider:
Type of school: There are three main options – schools based on French or Dutch education systems, or international schools where English is spoken. Does your child speak one of those languages? If not, you'll need to choose based on your personal and future interests. We decided to go for the Dutch system.
Location: You'll need the process to be as quick as possible, so make sure the school is in an efficient municipality. You should also consider how far the school is from your home and from Vlerick as many school places are allocated based on the home-school distance.
Timing: Most school places are allocated a year in advance. So for the September 2019 intake, most places were gone by the end of 2018. Be prepared to make a lot of calls and send lots of emails – and be aware you might not get responses. But eventually you'll find the right school.
Key tip: Your child will feel uncomfortable for the first few weeks. Give them time to adjust and get to know their new environment. And teach them some essential words on the language chosen.
ARRANGING VISAS
Having enough time to go through the visa procedure is crucial.
My family and I had two options when applying for our Belgium visas*:
Apply in our home country, with me as a student and them through the "family reunification" process
Or, apply just for my student visa and wait until we got to Belgium to apply for their visas – again under the family reunification process. We didn't need visas for our first 90 days in the EU.
The first was not an option for us as we found out it could take up to 16 months to receive the family reunification status. This could have meant my family not being able to join me in Brussels until after the MBA was finished. So we chose the second option.
There are three stages:
Register with your chosen municipality and get your local ID card as quickly as you can. This is the main document you need to apply for family reunification status – without it, your family will not be able to stay with you. You'll need a rental agreement and the police will visit to verify your home address.
This is where your choice of municipality is crucial – some people have to wait six months after they arrive in Brussels for their ID, but I got mine in 20 days.
Once you have your ID card, your partner can apply for the legal cohabitation status. This stage can take up to two months.
Your whole family then gets family reunification status and your partner receives an orange card that allows them to work. It can take up to six months for your partner to receive their local ID card – which means your family can stay with you at least until graduation.
A few things to remember
You'll need your documents translated into French or Dutch – with an apostille from your government.
Your local ID card is crucial to get your family health insurance – it provides benefits like transport discounts and money off language courses.
You should set aside around 700 euros to cover translations, apostilles, administration fees and visas.
You may need these documents:

Proof of relationship
Photos
Passport
Proof of rental agreement registration
Birth certificates
Medical certificates
Proof of income
Police check background/records
Cohabitation contract
Insurance
Proof of common ground to request family reunification
A WONDERFUL ADVENTURE
It's been six months since we arrived in Brussels, and bringing my family on my MBA journey has been the best decision I've made. Isabella is already singing songs in Dutch and speaking basic French. We aren't the only people on a family adventure. Two of my classmates have had babies during the programme, and others are married or living with their partners. If you're thinking about bringing your family on your MBA journey, I hope this information helps – and I hope you enjoy it! My final tip is: Don't be discouraged by the bureaucratic process you need to go through. It is one of the beauties of Belgium.
* Visa and residence permit requirements vary, so please get in touch with the Belgian embassy or consulate in your home country to find out more.
Written by John Paul Londono. John is 35. He came to Vlerick with his wife and four-year-old daughter, Isabella, from Colombia. He graduated in 2020.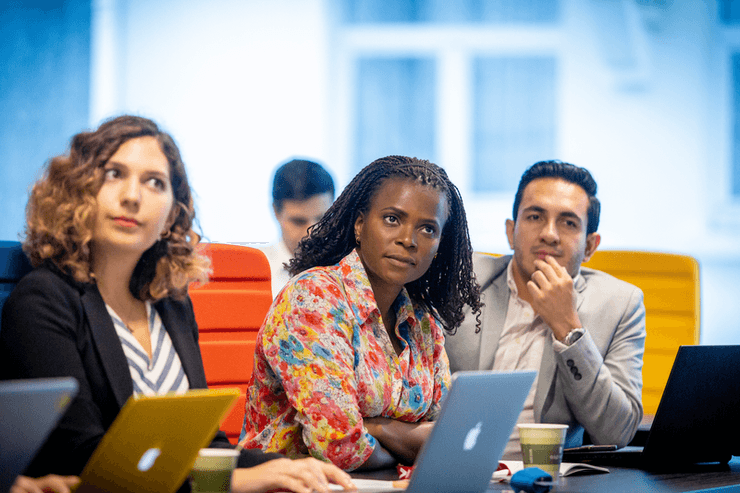 Full-time MBA
Our triple-accredited, 10-month, full-time MBA will change your life and accelerate your career path. Your journey will be hands-on and impactful – living and learning the skills, approaches and connections to become the agile leader top organisations need.