Gust Desmedt's role is entrepreneurial, far-reaching and deeply influential. As Chief Strategy Officer at the Minafin Group, he makes sure the chemicals company remains relevant and one step ahead. He scans horizons, hones strategy – and influences stakeholders across the entire organisation.
Yet just ten years ago, he was an engineering project manager, fresh out of university.
Gust says: "I was working for Total as technical engineering manager for petrol stations. But I knew there was more to learn. When I had three years' work experience – the minimum requirement for the Executive MBA – I applied to Vlerick. When I was accepted, I was the youngest person on the programme."
Over the following two years, Gust spent two nights a week on campus in Ghent – and rapidly built his knowledge. He says: "I very quickly understood that I was passionate about the strategic side of business more than the purely technical and operational sides.
"When we chose our in-company project, I decided to explore whether Total, the company I worked for at the time, should start up a new business unit with a different proposition. It was completely outside my comfort zone as a technical engineer – but I got excellent support from Vlerick, especially from Marion De Bruyne, my mentor at that time.
"The in-company project lasted for one year and at the end I presented it to the executive committee of the business unit in Total. I enjoyed it a lot. It was satisfying to be able to make recommendations that made an impact for Total. And it won the prize for the best project."
He says: "The very useful thing about an MBA from Vlerick is that you can learn many things especially over activities outside your domaine, and then apply them directly to quicker understand the context.
"I enjoyed every area of the Executive MBA programme. All the courses are designed and structured in such a way that they teach you the basics of what you need to become a complete manager. You learn the key things you need to develop yourself as a manager. Maybe not to become an HR or marketing specialist – but to know about the key things you need, like engaging people and presenting and developing propositions."
After he completed his Executive MBA, Gust stepped into ever-more strategic roles. He spent time working as a consultant at BCG – and then became a senior vice president Strategy for Solvay. Most recently, he became Chief Strategy Officer at Minafin.
He says that the basis Vlerick gave him is still useful today. He explains: "It allows you to have quicker understanding and conversations. Having an MBA speeds things up."
SO HOW HAS THE STRATEGIC INSIGHT OF AN MBA TRANSFORMED HIS CAREER?
Gust says: "It's a completely different world. As an engineer, you are obliged to assess details and come up with recommendations. When you need to think more long-term and strategically, you need to take into account way more criteria and data that is not necessarily fact based. Your work is more hypothesis-based.
"Because Vlerick takes you outside of your comfort zone, working in a more strategic way feels natural."
Gust says another big thing he gained from Vlerick was his professional network. He says: "Particularly because I was so young when I did it, my network wasn't large. But at Vlerick I made friends I still have – as well as a second circle of professionals it's easy to reach out to with questions. And you can't imagine how much fun we had during those two years!
"My Executive MBA from Vlerick changed my life. After Vlerick I went into business development, and then steadily took on more and more strategic roles. This wouldn't have been possible without an MBA.
"In ten years I went from being an engineer in petrol stations to becoming CSO and a member of Executive Committee in a mid-sized company. It's is a huge change!
"Anyone who wants to broaden and speed up their career should take the Executive MBA -especially technical engineers. It opens your eyes and makes much more possible."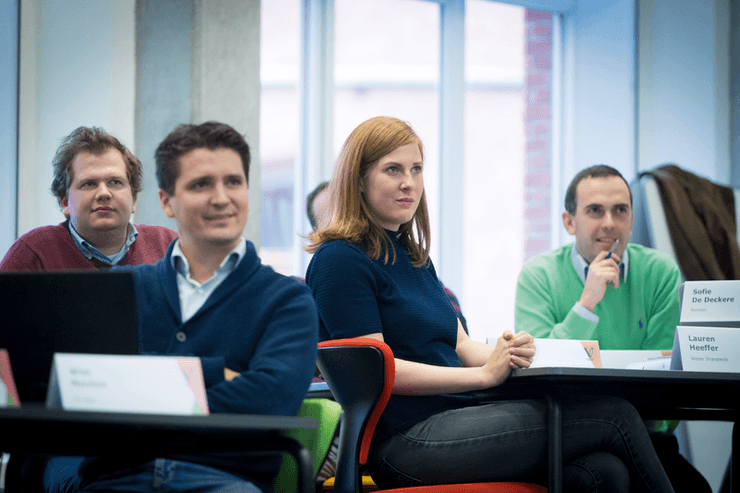 Executive MBA
Ambitious, driven and ready to fast-forward your career? But can't take time out from your professional life to study? That's where Vlerick's Executive MBA comes in.  
Our flexible programme is designed to work around your schedule. Choose the format that works for you and join us on our campuses in Ghent or Brussels – inspiring spaces where academics, executives, entrepreneurs and business leaders come to network, share insights, develop new ventures and take their thinking to new levels.