By 2030, the annual report will need to clearly identify the links between sustainability and financial information. Technology has the potential to play an important role in the future of sustainable and integrated reporting. That's why the 2022 Digital Finance Conference explored the impact of technology on recording, reporting and implementing sustainable approaches. During this conference, Jean-Marie Vanderstichele – Chief Financial Officer at Upgrade Estate – participated in the closing round table discussion. After the debate, Kristof Stouthuysen, Professor of Digital Finance and head of the Centre for Financial Leadership and Digital Transformation, sat down with Jean-Marie for an interview.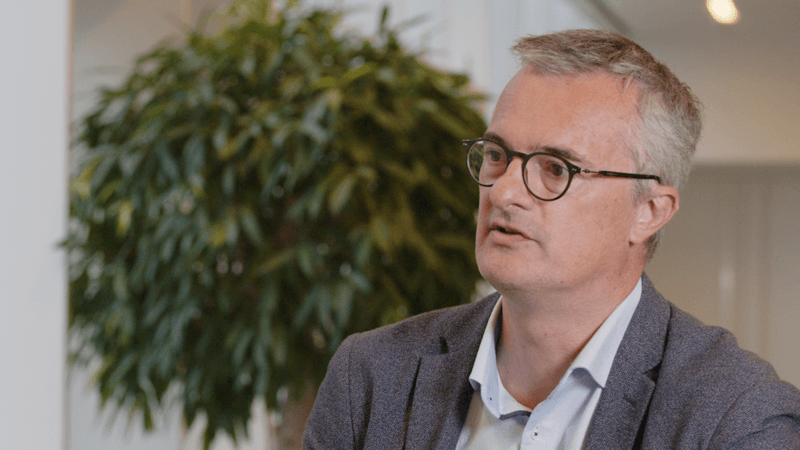 "To further the sustainability journey, you need to KISSS: keep it simple, stop talking and start acting."
In this Vlerick Insight Talk, Professor Kristof Stouthuysen interviews Jean-Marie Vanderstichele, Chief Financial Officer at Upgrade Estate.
In many companies, we see an increased focus on sustainability. Can you elaborate on the role of the CFO in this sustainability journey?
Jean-Marie Vanderstichele: "First of all, at Upgrade Estate sustainability is not new. It's in the DNA of the two founders, who are still the co-CEOs today. And so, everyone joining the company is intrigued by their daily dedication to sustainability. The finance function and the finance department are completely integrated in that sustainable way to go as well. As I'm also in the management team and as I join the board of directors' meetings, my role as CFO is to oversee the initiatives – the way we spend money or efforts on sustainability – and to report on that. As we are not a listed company, we don't have the obligation to report, but we chose to do so internally. We measure as much as possible the things we do and the initiatives we have taken in the past. Reporting is traditionally always part of the finance department, or of the finance function. We control figures. We control data. And we control to give the green light to publish it internally, at least to the board and the management team."
So you would agree with our keynote speaker Bob Kaplan who says 'if you're not measuring it, you cannot manage it'?
Jean-Marie Vanderstichele: "I fully agree with him. Measuring is the beginning of everything. Reporting is just the end and maybe the easiest part of it. When it comes to sustainability, you have lots of data. Everyone is saying that data is the new gold, but only if you know when, and how to use that data. Gold only derives its value from its meaning in the outside world. The data we gather and use originates from different systems as well. We use technology, software, and systems to gather, to analyse, and to try to report on the figures we want to report on."
Moving into the ESG space, you start looking at other data, beyond the traditional finance data. Are you using different technologies or systems as well?
Jean-Marie Vanderstichele: "A big part of our business is operating buildings, and managing the students and the student housing. That requires a lot of energy for heating and other energy consumption. In our 28 buildings, we have over 900 monitors. These data impulses are coming in every quarter of an hour and are measured by a building management system, which is integrated into our internal reporting on energy. That is only a part of the puzzle with regard to the sustainability reporting we have implemented internally. We also have figures and data on people, on gender, on age, etc."
In laying that puzzle, each organisation will probably have its own challenges. But can you give some general tips or tricks to further this sustainability journey?
Jean-Marie Vanderstichele: "I can conclude with two keywords. The first keyword is together. You cannot do this by yourself or by nominating a sustainability manager who tries to solve everything. The culture of sustainability has to be integrated into the whole company. You have to inform all your employees and make them aware of what is happening within the company, but also within the world, and how they can contribute, also personally, to a better world. The second keyword is KISSS. Keep it simple, stop talking, and start acting. By doing that, you can achieve something in each and every company. This is truly a call for managerial action."