Maria Garcia Salmones studied engineering before moving into finance and risk management roles at Euroclear, a Belgian financial services company. But by 2016, she was ready for a career change. This took her to Vlerick – and the Executive MBA.
She says: "It was difficult for me – I worked on very technical projects but I also had a passion for working with people. I was successful in my role, but honestly, I was quite unhappy. I knew I needed a change, but I had no clue what I wanted to do.
"An MBA was an opportunity to go back to studying, to being challenged, to seeing other industries and to open my eyes to other types of role. I chose Vlerick because the info session really convinced me – they knew what they were talking about and I had a good feeling about the school."
LIVING THE EXECUTIVE MBA
Maria found the format of the EMBA really helped her put what she was learning into practice.
"Because it was a part-time programme and I was still working, I could apply new approaches immediately at work," she says. "Being able to do that is super powerful. I didn't experience this at university where you just learn theory. With the MBA, you can apply cases and frameworks straight away.
"Balancing the MBA and work was intensive. It takes a lot of energy – but it gives you energy too. It was all worth it."
As well as gaining a broad business overview, Maria also developed the confidence she needed to put her new skills into action. She says: "On the one hand, you have courses about frameworks, techniques and theory. But you need the courage to actually do these things. The leadership courses and self-development empower you – it's so valuable for building confidence."
LEARNING ON THE EXECUTIVE MBA
Maria enjoyed every element of the MBA programme. But it was the international trip to San Francisco that was a real game changer for her career.
She says: "I'd already started my Knowledge in Action project on finance. But then we went to Silicon Valley to work with start-ups and learn about innovation. And I knew that was the path for me. So I changed my project to one on innovation. It was insane but it felt right."
Maria decided to create a start-up community within Euroclear – for colleagues who wanted to do things differently. "I created a space and it worked amazingly well," she says. "We had 15 people working on projects and testing methodologies outside of working hours and we ran a design thinking project for a team that got fantastic results. It ended up resulting in a career change – and it all started from Vlerick.
"Professor Katleen de Stobbeleir was my sponsor and she was amazing. She recommended reading and coached me to pitch my idea. She was an incredible support."
As well as learning a great deal from faculty, Maria took insights and ideas from her peers on the programme. "Almost every person had a different background – in terms of culture, country, industry, personality," she says. "It makes you think a lot and makes you more humble when you see how inspiring other people are.
"It definitely enriched the learning experience. For example, I worked at a finance company that had nothing to do with the airline industry or pharma. But I learned how these industries do things from my peers. And you learn about things outside your area of expertise too."
MAKING THE LEAP
After she completed her MBA, Euroclear created a new position for Maria based on her project. She is now Innovation Manager and is focusing on design thinking.
"I kept going with my start-up community after graduation," she says. "At first it was all alongside my other job. But after discussing it with management and deciding what the role could look like I became Innovation Manager. It was a lateral rather than vertical move. But I saw the potential to create a team and take the lead. And I loved it so much."
Maria now leads a Design Thinking transformation at Euroclear. And she's set up her own company too – helping top companies to become more human centric and innovative. She also leads strategy workshops for other organisations using the LEGO® SERIOUS PLAY® methodology. 
She says: "It's a lot of work but I love what I do. An MBA trains you well for this! My focus now is design thinking – so taking a human-centric approach to innovation. But I wasn't even aware this existed before the MBA – I discovered it on the Silicon Valley trip. It really did change everything."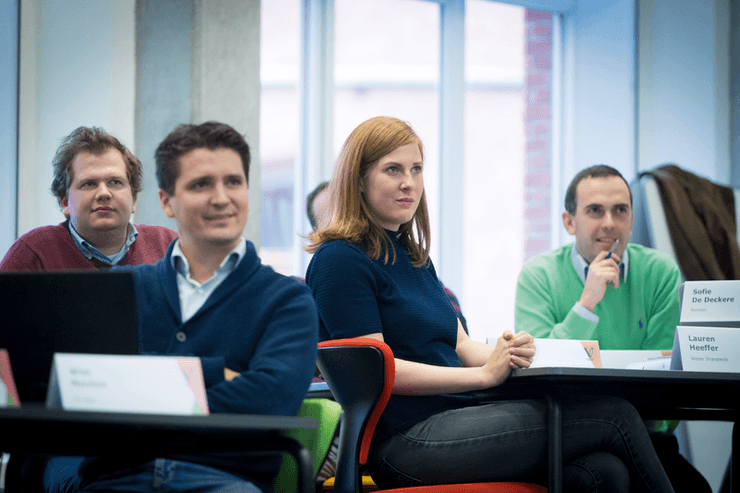 Executive MBA
Ambitious, driven and ready to fast-forward your career? But can't take time out from your professional life to study? That's where Vlerick's Executive MBA comes in.  
Our flexible programme is designed to work around your schedule. Choose the format that works for you and join us on our campuses in Ghent or Brussels – inspiring spaces where academics, executives, entrepreneurs and business leaders come to network, share insights, develop new ventures and take their thinking to new levels.