"I was working at ING, delivering interesting technology projects. I started in project management and then went into programme management," says Oliver, adding: "I was very much on the delivery side. But then as I worked on bigger projects, I began to get a feel for the strategic thinking that went into them – and the planning and negotiations.'' 
"This really started to trigger my interest, so – with the backing of my company – I enrolled in the Executive MBA at Vlerick." 
LIVING THE EXECUTIVE MBA
Oliver soon found himself in what he describes as "the most exciting environment" he'd experienced. His fellow participants came from 18 different countries – and represented many sectors and backgrounds. 
"My classmates were awesome," he says. "People flew in every weekend from Spain, Italy, the UK, Germany and Russia… and of course there were people like me, from Belgium. They worked in every sector imaginable - agriculture, pharma and some from financial services.'' 
"This was so important because in my day-to-day work, I usually only speak to people who are employed in financial services. But with the MBA, you get different points of view, because the person from agriculture is going to see a challenge differently from you.''
"We did a lot of group work, and you're exposed to so many different types of thinking and approaches. It was really enriching." 
LEARNING ON THE EXECUTIVE MBA
Oliver says the experiences, opportunities and things he learned with Vlerick have been "life changing". 
He says: "Of course there is theory, but when you learn at Vlerick, it goes far beyond this.'' 
"I took part in trips to China and to Silicon Valley. They were trips of a lifetime. I learned so much – particularly in Silicon Valley. I experienced a different mentality about developing ideas and having vision. I still use what I learned there today.'' 
"We had the visits that Vlerick organised to Facebook and Cisco. And then, on our own, we managed to visit Apple, the Google campus and LinkedIn. It gave us a lot of insight on how those big-time companies work – and this has really stuck with me.'' 
"There were also evening events, with entrepreneurs coming together, explaining their ideas and being happy to learn from one another. I learned from them that it's all about speed, execution and quality." 
Oliver also valued his knowledge in action project. He says: "I set out to do a digital transformation project and my mentor was Professor Stijn Viaene – who is a leading expert on digital transformation. He really helped to make my thinking rigorous and robust.'' 
"ING was going through a big digital transformation at the time and I was able to propose an important project within it. Stijn pushed me to shape my idea, find the data to support it and test it." 
MAKING THE LEAP
With his Executive MBA under his belt, Oliver felt ready to move up. He is now the director of the IT Transformation Office at Euroclear. 
He says: "Vlerick gave me the opportunity to develop as a leader. I have learned to negotiate. I have learned to deal with difficult situations. I have learned to understand what people want and how to get them on board. Without these skills, you cannot lead.'' 
"One thing an MBA gives you is a safe space to experiment. You don't get that in real life. If you try a certain approach and it doesn't work in real life, you fail – so maybe you don't push yourself out there again. At Vlerick, you get to experience situations with support, so when they come up in real life, you're prepared.'' 
"We spent one weekend in the Netherlands learning to negotiate and to develop communications skills – understanding what people need and what they are saying.'' 
"So when it came to moving up, I felt ready. I'm able to see the bigger picture and I'm able to put forward ideas and get people to see their value." 
Because of the network Oliver developed at Vlerick, he has a constant source of support around him. He says: "I have stayed in touch with the other people on the programme and we support and help each other with examples and ideas. We now organise our own trips. We've been to Portugal together. And last year we went to Macedonia and visited a vineyard – which inspired one of our group to start a business. Next year we're going to visit a business in Spain. We organise these ourselves now because our network is so important to us.'' 
"People ask me if doing the Executive MBA was worth it and I say, 100%. You get out of it what you're prepared to put in. I've learned to see – and express – things from a strategic standpoint. Without the MBA I would maybe not be able to demonstrate how an idea or course of action will impact the company in a broader sense. It has given me the skills and confidence to leap."
Oliver Regidor took the leap from project delivery to strategic leadership. He graduated in 2017.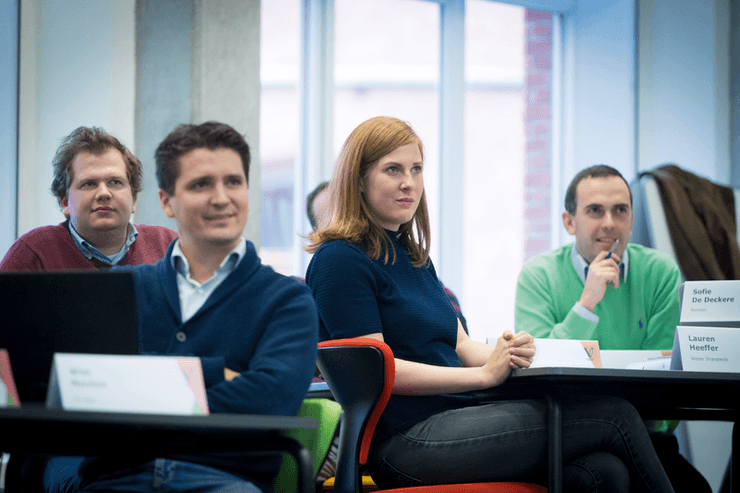 Executive MBA
Ambitious, driven and ready to fast-forward your career? But can't take time out from your professional life to study? That's where Vlerick's Executive MBA comes in.  
Our flexible programme is designed to work around your schedule. Choose the format that works for you and join us on our campuses in Ghent or Brussels – inspiring spaces where academics, executives, entrepreneurs and business leaders come to network, share insights, develop new ventures and take their thinking to new levels.