Benjamin De Brabander and Sandrine Le Thomas have the same reason for participating in the DBA programme at Vlerick: in their professional lives they both came across a question that no one could solve for them. And they couldn't let go of it until they found the answer. After the first week of their Doctorate in Business Administration, we asked them about their ambitions.
"A JOB IS OFTEN A SHOOTOUT. THIS COURSE HAS ENABLED ME TO TAKE A STEP BACK."
Benjamin De Brabander 
"I am responsible for the large ERP and CRM corporate projects at the accountancy and consultancy firm KPMG. In recent years we have incorporated more and more aspects of business into our service, such as process optimisation, target operating and change management. We consider that 'soft' framework important. After all, we notice that these elements are precisely what often make projects run aground – it often has little to do with technology and more with a lack of leadership, communication or commitment. 
That's unfortunate because I see a lot of potential in those projects. I see that ERP systems hold an opportunity to harmonise the processes within a business. That is why my research question is: How can an ERP drive business transformation? I still need to decide on the exact approach – human or technological – as I change my opinion on that every day. But my ambition is for my research to actually mean something to business and the community.
I want to take a step back by doing this programme. A job is often a shootout. Before you have even completed one project the next one is due for delivery. In my job, I give advice to clients every day and I assume it is the correct advice. But is it really? In my research I want to create some distance to think about this type of questions.
Ten years ago I took an executive MBA at Vlerick. At the time I wondered whether to start a doctorate, but it was not practically feasible. I recently saw an advert for this DBA and I immediately thought: this is the right moment to do it. I really enjoy my work; I'm passionate about it. I am not thinking of a career switch by any means. But this PhD will provide me with an opportunity to do my job even better in the future."
"I KEPT COMING UP AGAINST THE SAME ISSUES. I SIMPLY HAD TO FIGURE THEM OUT."
Sandrine Le Thomas 
"I work at Abbott Laboratories as a digital marketing manager for one of Abbott's divisions. I studied international law and went on to work for various international organisations. After about five years I ended up in a company where I really felt at home. That company was taken over, then bought a number of other companies and was ultimately sold to Abbott two years ago. So I have seen all sides of an acquisition. And with each takeover, I was confronted with the same difficulties and questions. Nobody could give me any answer, so in the end I decided that I would have to figure it all out for myself.
My father is a researcher and my husband a professor. I was sure I would never get into research myself. I wanted to have an impact in the field and to prove myself in practice. However, the more experience I gained in the professional field, the more responsibility I felt to find solutions. And then apparently there comes a time when needs and context coincide. So that's that; here I am.
So do I have clear idea of my research topic? I did, but unfortunately not anymore (she laughs). When I applied for this DBA, I had built up a research idea. But you do that with the knowledge you have at that point in time. In fact, you don't actually know anything. After a week of classes you realise: I have a practical problem, but that is far from being a research question. It's quite an eye-opener.
My idea hasn't changed, though: I want to research how digitisation affects the brand architecture at B2B companies. With a takeover or merger that architecture changes drastically. But businesses are often at a loss as to how to deal with that, how to connect the various brands.
I don't expect my research to provide yes or no answers. My aim is to help practitioners when taking decisions. This course is an exploration. I have no idea where it will take me in my career. I hope above all that it teaches me something as a person."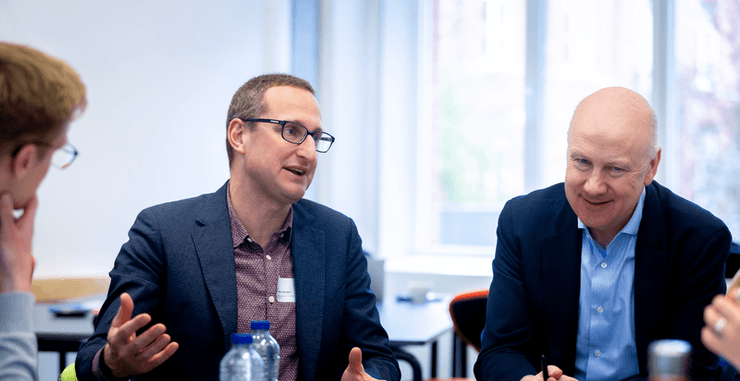 Doctorate in Business Administration
This five-year blended doctoral programme gives you the opportunity to carry out research alongside your current role. You'll live and learn the skills to dive deep into your chosen specialism, so you can take the leap into the academic world of research. You'll develop the skills and approaches to re-energise your organisation with original insights and fresh perspectives.