On 19 October Fluvius and Vlerick Business School officially renewed two Chair Partnerships. Over the coming five years, both organisations will embrace the challenges that Fluvius faces as a Flemish DSO in the international energy landscape. At the same time, Fluvius will continue the joint research on resilient supply chains, which is led by Raf Bellers, Director Supply Chain at Fluvius, and Behzad Samii, Professor of Operations & Supply Chain Management at Vlerick.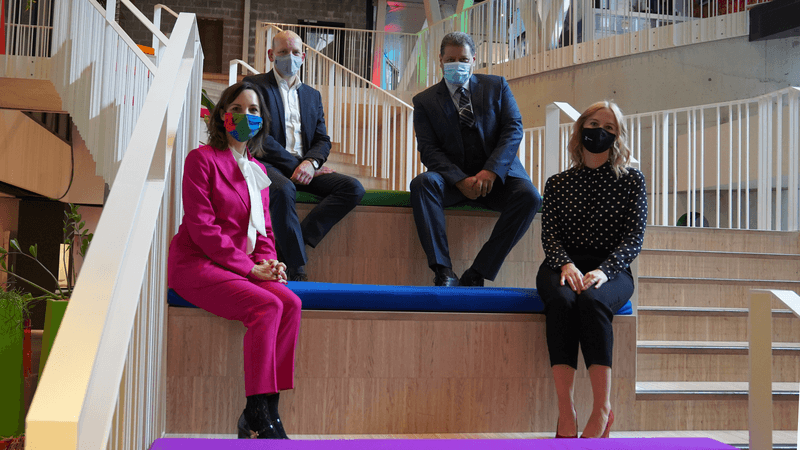 The research conducted as part of the Chair on Resilient Supply Chains is divided into four tracks.
Mr Bellers, what challenges is Fluvius facing from a supply chain point of view?
Raf Bellers: "At Fluvius, we want to connect society through a sustainable multi-utility network. The supply chain has a leading role to play in achieving that goal. And all the things we'll be looking at in this Chair enable the supply chain to fulfil that role. Together with Vlerick, we've identified four research tracks we'll be working on.
"The first, which will be led by my colleague Jean-Pierre Hollevoet, is on physical asset management: how can we extend the lifecycle of our assets?
"The second concerns sustainability and the circular economy: how can we evaluate suppliers in that respect?
"The third is about system-thinking in a multi-utility approach: besides gas and electricity, we're looking at heating, coax cabling, data communications and sewerage. We've already found synergies between these utilities on the operational side, but how can we connect them into one system that not only distributes but also collects and redistributes? And how can we have a more global approach to that?
"The fourth and final project focuses on new technologies: what technologies, such as blockchain, can help us in our digital transformation?"
The supply chain has a leading role to play in fulfilling our mission statement
Director Supply Chain at Fluvius
So you'll have quite a lot on your plate for the next five years, Professor Samii. How do you plan to make it happen?
Behzad Samii: "We've already laid out a structured plan and timeline to cover these four research tracks. The beauty of working with a business school is that you have a large body of knowledge to draw on. Of course, we do have a solid grounding in supply chain management by way of our Centre for People in the Smart Digitised Supply Chain, which focuses on the rise of automation, blockchain, AI and other industry 4.0 technologies.
"But if we're talking about circular economy opportunities, a sustainability scorecard to evaluate suppliers and greentech , I can call upon our wealth of expertise in sustainable supply chains and corporate social responsibility. As for the system-thinking approach and distributive/collective utilities in one setting, that's something we've been working on in the context of smart cities for a long time.
"My role is primarily to act as a bridge between the challenges that Fluvius is facing and the expertise that exists within Vlerick. For the follow-up of the Chair, I'm lucky to be able to work with Georgiana Sandu, a post-doctoral researcher with a PhD in electrical and material engineering. She's the one who'll be pushing forward the research track in this Chair on a day-to-day basis.
"So, although there's a clear roadmap in place, we remain flexible and open to discussion and change. Otherwise this partnership wouldn't have survived for the past ten years."
Working with a business school allows you to draw on a large body of knowledge
Professor of Operations & Supply Chain Management
What's the magic?
Raf Bellers: "The research is not a theoretical exercise. The tracks are based on real problems, real questions we ask ourselves within Fluvius. We know that, in the end, there will be a real outcome we can work with. That's why we also provide real-life data to Professor Samii and his team. This Chair is like a mutual sounding board: thanks to Vlerick, I can detect the blind spots that we might have within our organisation. But it might just as well be that we say to Vlerick: 'Great idea, but it doesn't work like that in operational life.'"
Behzad Samii: "Thanks to that open-mindedness, working with Fluvius has become second nature to me in the past ten years. We've published research results in five top journals coming straight from the data provided by Fluvius. We've written ten teaching cases and teaching notes for graduate courses. And we've presented our research at academic and professional conferences on a regular basis.
"This Chair also acts as a catalyst in our community: so far we've completed five in-company projects for Fluvius with the help of our Masters and MBA students and have helped five PhD, post-doctoral and pre-doctoral researchers take the leap into promising careers in academia and business.
"On top of that, Fluvius is a visionary company. Many things that they were thinking about ten years ago (electric vehicle charging infrastructure, smart gas and electricity meter proliferation, electricity storage solutions, and so on), you're seeing the fruits today. And probably the things that they're now working on, you're going to see the outcomes five years down the road."