"I started with physics, but soon moved into pharmacy," says Hanna. "It was an area I knew as I'd already helped at the pharmacy. Then I graduated and I went to work in a pharmacy myself." 
But after four years, Hanna was desperate for a new challenge. "There are only so many times you can ask people if they'd like a bag with that!" she says. 
So she went back to university and gained another undergraduate degree in economics. When her husband's job moved them to Brussels, she decided that a full-time MBA at Vlerick was a natural next step.  
LIVING THE FULL-TIME MBA
Most participants agree that a full-time MBA can be an intense experience. Hanna says: "There have been times when the workload has been big. And there have been periods when I've needed the support of my colleagues, for sure." 
However, she says that the atmosphere at Vlerick has helped her to tackle the workloads and meet every single challenge. She says: "Everyone is in the same boat and we all help each other.''  
"Also, the campus is friendly and everyone is happy to talk to everyone. The environment is inspiring. The professors are super-enthusiastic and really into teaching us and getting us to do our best. They are there if you want to talk to them and discuss ideas with them.'' 
"And it's a very international experience. There are 41 people in our group and they are from 24 different nationalities – and also from many different professional backgrounds.'' 
"There are pharmacists, engineers, lawyers and people with business degrees. It exposes you to a rich experience – and you make better decisions because there are diverse opinions and focuses." 
LEARNING ON THE FULL-TIME MBA
So far, Hanna's experience has featured valuable hard and soft business skills, models and methodologies, combined with coaching, personal development and opportunities to see inside businesses across Europe. 
She says: "I'm particularly enjoying what I'm learning about operations and innovation. Operations is all about increasing efficiencies, optimising workflows and making processes work as well as they can. It's about problem-solving, really – which is something I enjoy.'' 
"I've found things like learning presentation skills really useful. We've also spent time looking at communications. It's interesting because the principles of communication – knowing what people need and how to convey information to them – are straightforward. But knowing what they are and being able to do it are different things. So it's been really useful for me to be able to practice and put the knowledge about communications into action in exercises."  
MAKING THE LEAP
When Hanna started her full-time MBA at Vlerick, she imagined that by the end of it, she would be looking for a managerial role in the pharmaceutical industry. 
"But now I have met so many people who work in so many different industries – and because of my coaching – I can now see that there may be many other opportunities for me as well," she says. 
Hanna adds: "In Finland, having a Master's degree is a must-have. And in Vlerick I found a truly entrepreneurial school. It's not huge and it has a nice family feeling. You know you can talk to anyone with no barriers. The professors are always happy to talk to you.'' 
"It is a lot of work, but it is really worth it. I feel that I have more opportunities available to me now than ever before." 
Hanna Mustonen graduated in 2020.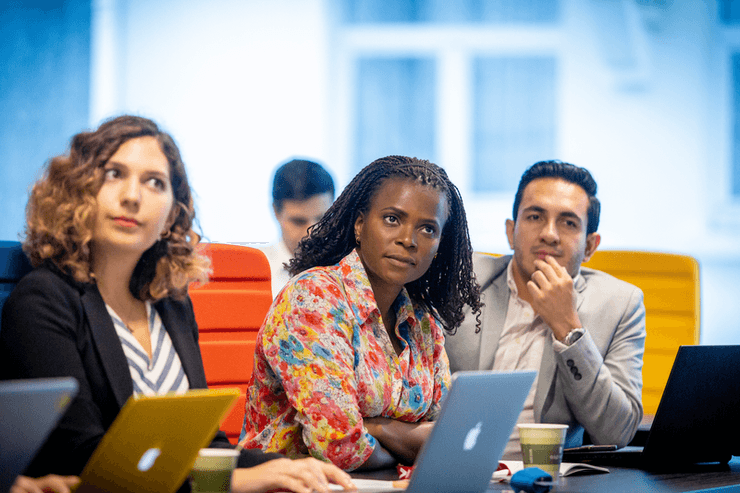 Full-time MBA
Our triple-accredited, 10-month, full-time MBA will change your life and accelerate your career path. Your journey will be hands-on and impactful – living and learning the skills, approaches and connections to become the agile leader top organisations need.