When I told my close friends, I had gained admission into a well-known business school in Belgium, I got the crazy eyes stare. Why are you accepting an offer for an MBA programme in this pandemic? Can you even travel? Will you be able to truly experience what an MBA programme has to offer if you do it online? These questions and many others were thrown back at me in the moment where I only expected "Congratulations Del! This is great news!". Evidently these questions got me thinking, do I really want to do my MBA now?
There was a lot of soul searching involved in answering this question, especially because being able to attend Vlerick was a dream for me, not only the programme but the institution as well. I decided I wanted to work on getting an MBA after I realized the necessity of having a business generalist's perspective in my role as a project manager in a consulting firm. My research span far and wide but I was unimpressed by most of my findings until I came across Vlerick. A business school where teamwork and effort are the way to go throughout the entire MBA programme. This is the reason I chose the full-time MBA programme at Vlerick.
I thought to myself - the one thing that was certain about 2020 is the uncertainty that has engulfed all of us. Will things really be back to normal in 2021, the year after or the year after that? Nobody knows. It was in this moment I had an epiphany, why postpone something I can do now when we do not know how long Covid-19 is going to be here for. And if it is forever, then that is my dream down the drain because I waited for things to get back to normal again. So, I grabbed the opportunity before me and here I am now, seven months into my MBA journey and loving every minute of it.
I started the programme online in September 2020 while I was still in Ghana, combining it with my full-time job - yes you heard right - a full-time job with a full-time MBA programme! But Vlerick made this very flexible as the live sessions during the first semester took place in the weekends. Fast forward, I finally moved to Belgium in December to gear up for the second semester. I had never been to Belgium before, so the excitement was also backed by a lot of anxiety but Vlerick was with me every step of the way, helping me with my visa application, finding a place to live, settling in effortlessly, Covid-19 protocols, etc. Vlerick basically held my hand throughout the entire process, and it was comforting to know I had that someone who was looking out for me. The 2021 full-time MBA class profile is very diverse, and this has a direct correlation with the quality of information and ideas brought on board during lectures, seminars, and group assignments. It is truly incredible to be part of an experience that encourages other skills based on different cultures.
The programme has been very fulfilling so far. To be completely honest, even though the lectures are still taking place online, I have acquired a lot of new knowledge through the different courses, group assignments and examinations. I am looking forward to an even more exciting period as we have started electives and respective bootcamps. I am particularly excited about the FMCG bootcamp on retail and marketing brandstorming. Engaging with top management from different global companies has been helpful in providing information on how they provide value for their consumers. After the MBA, I will return to my role as senior project manager with Africa Foresight Group and provide value for African businesses looking to make a sustainable impact on the continent.
Written by Delphina Nyemitei. She graduated in 2021.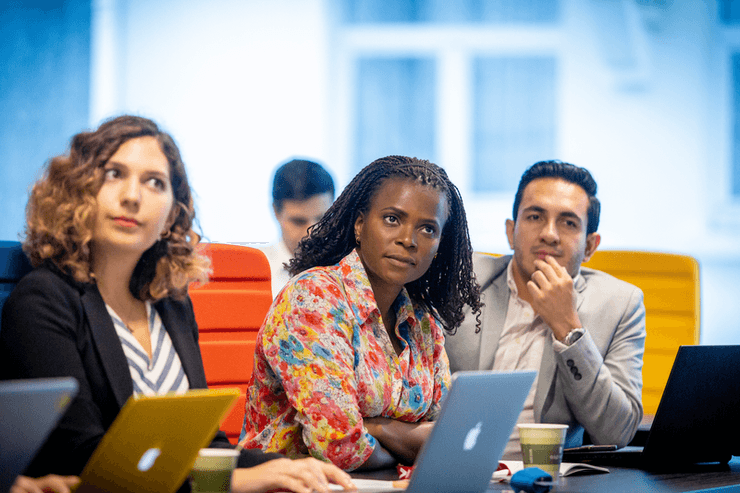 Full-time MBA
Our triple-accredited, 10-month, full-time MBA will change your life and accelerate your career path. Your journey will be hands-on and impactful – living and learning the skills, approaches and connections to become the agile leader top organisations need.