"I was a specialist. I'm a trained accountant and I was very comfortable in a world of numbers," she says. But to get further, Rebeca knew she would have to learn more. "I always wanted to do an MBA – it was a personal goal. When I started to look for where I would study my MBA, I was looking in Europe. I am Costa Rican so I knew the American way of doing business – I knew the American mindset.''
BEING PART OF A DIVERSE GROUP
"I considered options in London, but Vlerick stood out because it has such an international approach. In my class there were people from all over the world. At Vlerick there is a real international vibe and I learned a lot from this. "There were also people from a lot of different professional backgrounds – and people from their 20s through to their 40s. Everyone approached tasks in very different ways and this was very interesting for me.''
"I had been used to American culture where everyone is straight to the point. But then you're working with people from Europe and from India and they have different reactions. You learn to work in a more international way."
STEPPING OUTSIDE HER COMFORT ZONE
Rebeca says her whole experience at Vlerick took her outside of her comfort zone – in the best possible way. She said: "For me, everything had been about logic. I love a boring spreadsheet! There were several situations where I thought Oh my God! How am I going to do that? Usually with things that have a creative element – innovation and marketing, for example.''
 "But you have so much support – from your classmates and from the experts at Vlerick – you end up doing it and being proud of yourself for achieving it. So whatever challenge I face now, I know I can do it. I can break through barriers and achieve things."
OPENING DOORS TO NEW OPPORTUNITIES
Another career-enhancing aspect of studying at Vlerick for Rebeca was networking.
She says: "At first, I didn't get it. It's not really part of American working culture and so I didn't understand why we had all these drinks and meeting opportunities. But you meet interesting people – people who work in businesses, people who've also studied at Vlerick.''
"Networking is a great way to meet people and for them to understand who you are and what you're like – and of course for you to see if you like them. It's much better than just sending your CV to an HR person. It opens the doors to opportunities in different companies. I actually got my job through a networking event at Vlerick." Rebeca has been working in operations at Byteflies – an Antwerp-based tech start-up that creates medical wearable technology – since she graduated from Vlerick.
She says: "I'm certainly applying what I've learned in business where I now work. Byteflies is a start-up and I'm helping to make the company more lean and the supply chain more effective.'' "In a big company, you are super-specialised. The MBA gave me an overview of how the whole company functions. There are insights and tips for all areas of the business. "Next for me is to return to what I love and move to a financial role – to help the start-up I work for grow into a scale-up. I wouldn't be able to do this just with a Specialised MBA in Finance."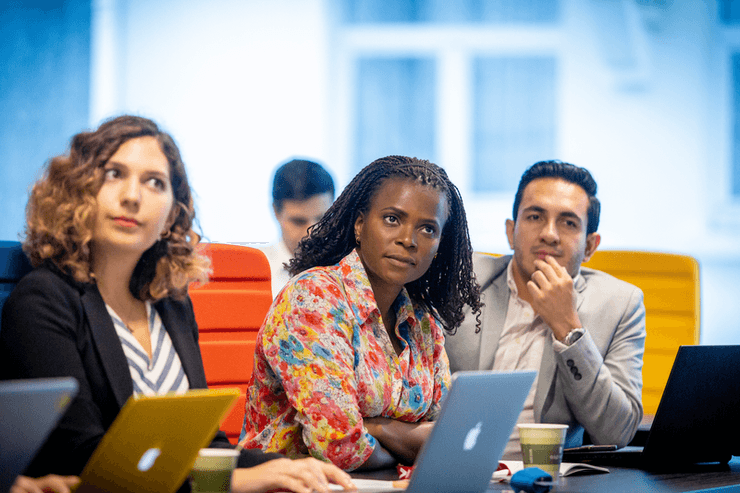 Full-time MBA
Our triple-accredited, 10-month, full-time MBA will change your life and accelerate your career path. Your journey will be hands-on and impactful – living and learning the skills, approaches and connections to become the agile leader top organisations need.