Ruben Lieten was a highly-qualified research scientist, working in the super high-tech field of semiconductors. He had always wanted to start something on his own – but thought he lacked the business knowledge to make a success of it. 
He says: "I was technically expert, so I had an idea and I thought this idea in itself would work. But it's one thing to have a good idea and another to be able to execute it – so I was hoping an MBA would help me to transition from an idea to a business.
"I wanted to know how to build the business case to convince other people to invest in my ideas. I think sometimes when technical experts launch a business, this can be the piece that is often missing."
LIVING THE EXECUTIVE MBA
Since completing his MBA, Ruben has co-founded Spectricity – a company that creates low-cost, miniaturised spectral sensing technology that can be used in agriculture, food analysis, health, biomedical and consumer industries. He says his Executive MBA from Vlerick gave him the confidence to make the leap.
One of the best things about the MBA, says Ruben, was the range of people he worked alongside.
"I am a scientist," he says, "So you talk to other scientists and you get a scientific view of the world. At Vlerick, I was working alongside a real variety of people – from all different backgrounds and from all over the world.''
"Throughout my MBA I worked alongside people from Italy, Spain, Portugal, China, Moldova, Mauritius, Turkey, Ecuador, France, Russia, Germany, Romania and Hungary. And there were people from many sectors also. It helps you see a situation from many points of view and without bias.
"You see that there are interesting things happening in different companies and different areas of the economy."
LEARNING ON THE EXECUTIVE MBA
Ruben says his MBA gave him an indispensable mix of business insight and knowledge – from harder business skills like finance, all the way through to softer skills like communication and negotiation.
He says: "I am very rational. But I learned from the MBA that logic isn't enough to persuade people. Instead, you need to understand people and know what's important for them. Before, I thought if something was logical then everyone would see it. Now I know that people aren't automatically persuaded by logic – and this has been an eye-opener for me.''
"I took an elective about leadership and communication. I learned some really important skills there on negotiation and understanding people's positions to get to a win-win proposal. I was used to being around scientists and engineers – so it was good to understand how other people think and what they need from a situation."
Diving deep into the dynamics of successful communications has been valuable for Ruben too. He says: "It's very important for me to be able to communicate with stakeholders – with people like the government and investors – and to be able to get them to understand and say "yes". I learned a lot about this on the programme."
Ruben put these new skills to work during his Knowledge in Action project. At the time, he was working for an American semiconductor company with 1.2B $ revenue that was looking to expand. For the project, Ruben identified companies that would be suitable for acquisition and proposed them to senior management.
He said: "I looked at why a particular target might be a good fit, what the synergies and added value might be – and what would be a fair price. I read a lot of annual reports, deep dived into the product portfolios, and then compared the options in terms of differences and similarities with our company.''
"It turned out to be a good opportunity to raise my profile internally because during the project I talked with senior management, including the CEO. I proposed three companies and 18 months later, my company announced the merger with one of them, leading to a 3B $ revenue company."
"The project brought together a deeper understanding of my own company's strategy and M&A opportunities/risks, and a deeper understanding of the financials and valuation of businesses. I got a lot from it."
MAKING THE LEAP
Ruben says in his experience, everyone taking an Executive MBA wants to make a change in their life and in their career.
He adds: "Most people you meet doing an MBA have a nice job, but they want to do something different to increase their impact and scope. Yet if you have a nice job it can be difficult to make the leap – you can feel that there is too much to lose and too much at risk.''
"You might think that you don't know too much about business and the economy. But then you do the MBA and you realise how much you are capable of – and it's probably more than you think.''
"You are in this great situation where if you have an idea or questions, you can ask a professor or other people on the programme and you get the confidence to do it. It's an environment where there is no shame in not knowing and reaching out to the people who know the things that you don't know yet."
And because Ruben is still actively in touch with many of his fellow alumni, he says he has on-going opportunities to keep learning and benefitting from their experience and advice.
"My Vlerick network is very valuable to me. Professionally, this is the case – I made a connection with one of our investors at a Vlerick event, and I can call an HR expert I know if I am looking at HR challenges in my own business, for example. It is also the case socially. I can just pick up the phone and meet people I studied with for a beer or dinner or to play a board game or soccer – and we discuss things and keep learning. You see everyone evolving and growing in their companies and taking new opportunities – it's great to learn from each other!"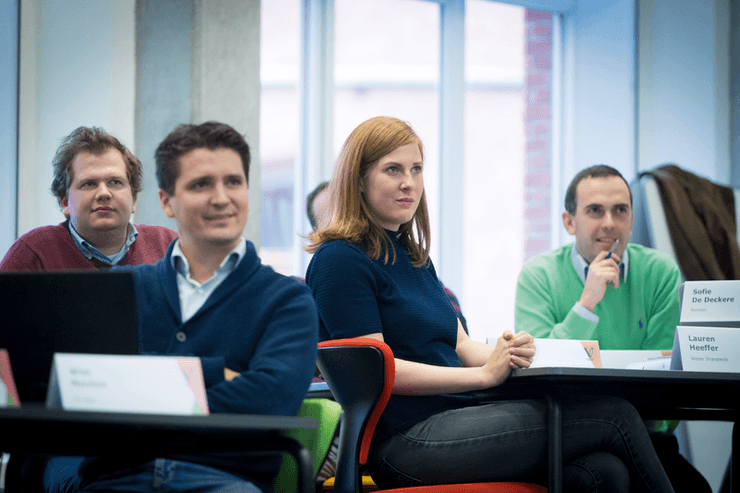 Executive MBA
Ambitious, driven and ready to fast-forward your career? But can't take time out from your professional life to study? That's where Vlerick's Executive MBA comes in.  
Our flexible programme is designed to work around your schedule. Choose the format that works for you and join us on our campuses in Ghent or Brussels – inspiring spaces where academics, executives, entrepreneurs and business leaders come to network, share insights, develop new ventures and take their thinking to new levels.