Then, after six years in audit and accounting roles, Sara wanted a change. She was keen to work with her sister to grow their businesses, but felt that although she had a good grasp of financials, she needed to develop her managerial skills and gain an overview of business as a whole.
So she sought out an MBA that would give her the skills and experience she felt she lacked.
VLERICK STOOD OUT
One of the things Sara wanted to develop was a strong international understanding. She understood business in North and Latin America, but wanted to learn new ways of working and thinking – and opportunities to explore how businesses operate internationally.
"I needed a fresh mindset," she says. "Europe was in my head straight away, but I didn't want to go to Spain as I already speak the language. I wanted to challenge myself. Vlerick stood out as it offered both an entrepreneurial and international approach with a perfect balance of theory and practice."
Sara discovered benefits simply from living in Belgium. She says, "It's very different to Peru. There's a strong international vibe and the city is very cosmopolitan. You can find people from all over the world and you're exposed to different cultures and perspectives. It's really enriching."
AN ENTREPRENEURIAL APPROACH
Sara particularly valued the entrepreneurial ethos of the Full-Time MBA. On her study trip to Boston she took advantage of an opportunity to work on a business plan – and discovered she could use all the knowledge and experience she gained in her own businesses. She also learned how to apply her entrepreneurial skills in a focused way.
"When I started my business, I did it on gut feel," she says. "Now it's systematic – I have tools and a structure. Rather than moving around while blindfolded, I have a plan."
"I particularly valued the courses on "softer" skills like teamwork, leadership, problem solving and negotiation. They helped me do things differently, embrace change and step outside my comfort zone."
"For example, in the first week of the MBA, we had a course about how people around the world approach different problems. This was completely new for me. In Latin America people don't get to the point, they take a softer approach. In other parts of the world communication is more direct – and if you don't understand cultural differences, you could be offended. So it was great to learn about this – it's a skill I use regularly now. I also learned a lot from my group about accepting different viewpoints. That's the value of a diverse programme."
A CATALYST FOR CHANGE
Vlerick's Full-Time MBA exposed Sara to many new things – and ultimately helped her decide her next step. She says: "It helped me make a big decision – to return to Lima, leave my job and focus completely on working with my sister to grow our businesses."
"When you do an MBA, you're not limited by what you've studied before. You try new things. And Vlerick's programme was the perfect combination of theory and getting hands-on."
"For example, the business plan we wrote had to be presented to investors to see if they would back it. This was exactly the experience I needed to gain. Vlerick was a perfect match for my needs."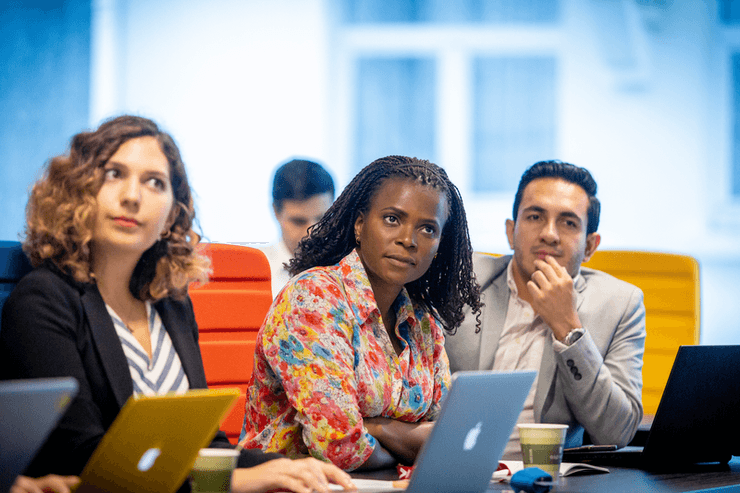 Full-time MBA
Our triple-accredited, 10-month, full-time MBA will change your life and accelerate your career path. Your journey will be hands-on and impactful – living and learning the skills, approaches and connections to become the agile leader top organisations need.