She had a few years of solid work experience behind her, working in finance and education in her native Canada. But she felt that if the right doors opened, she could have the world at her feet. So she applied for a place on Vlerick's Full-time MBA.
"Being in an administrative role in a university, you see all these students come in and get their degrees and go on to get all these amazing jobs. I found it really inspiring. I thought, I want to do this as well.", she says.
"I wanted to get a perspective from outside of Canada – and I was really drawn to the international elements of Vlerick. Apart from attracting people from all over the world, you go on international trips and partake in the Global Social Project – and you're based in the centre of Europe. I knew Vlerick was where I wanted to go.
LIVING THE FULL-TIME MBA
Adjusting to life in Belgium – and the intensity of the Full-time MBA programme – took effort. Sofia says: "It was my first substantial amount of time away from Canada – and the pace of the programme is exceptional. But you always have support and people around you who are in the same boat."
And, says Sofia, the pressures of the MBA set her up perfectly for the role she now has as a Global Project Manager for young, thriving tech company Rydoo. She says: "It's a growing company and the pace is incredible. Things move fast! It's a young company, people are really engaged and there's a lot of energy. I definitely feel like my year at Vlerick prepared me for it."
Sofia also keeps in regular contact with her MBA group: "I made genuine friends on the programme and we still meet one another regularly. We also help one another professionally. Recently, a friend from the programme was interviewing for a job in a tech company and I was able to talk to her about my experiences and what she might encounter."
LEARNING ON THE FULL-TIME MBA
Being able to put theory into practice was something Sofia found particularly valuable at Vlerick. For the in-company project, she helped an engineering company to evolve its traditional practices into an online sales and support offer.
Sofia: "It was really rewarding. We worked with a bricks and mortar B2B company and helped to demonstrate how their servicing offer could be moved online –  and introduced them to more digital ways of working"
"You learn a lot on a project like this. You're consulting various stakeholders, you're working in a team – you're able to suggest business-enhancing ideas. It really helped to build my self-assurance. I also found out that I like the technical aspects of this kind of work."
She continues: "I also had the opportunity to  be able to work on a consulting project in Aruba for my Global Social Project. It was about reducing water consumption and exploring options and the business implications of doing so. It was such a great experience – and they were impressed with our report."
And she still uses the approaches and tools she learned on her MBA. She adds: "My approach to leadership definitely evolved at Vlerick. I learned tools and methodologies that I still use today. I'm also working for a company that gives me a lot of freedom. They appreciate the value I bring to the table and they encourage me to do it my way.".
MAKING THE LEAP
When Sofia started her Full-time MBA at Vlerick, she was open to finding out more about her strengths and discovering how her professional life could evolve.
And at the end of her programme, she stepped into her dream role almost immediately – and is now working near Brussels.
Sofia's final note: "Because of Vlerick I've found a role that perfectly suits my personality and my strengths. I work across processes – and I'm learning so much about the digital industry. And as a bonus, I get to continue to work with people from many different nationalities.''
"Doing the Full-time MBA at Vlerick has made all this possible."
Sofia Leposavic took the leap from graduate program officer to global project manager. She graduated in 2019.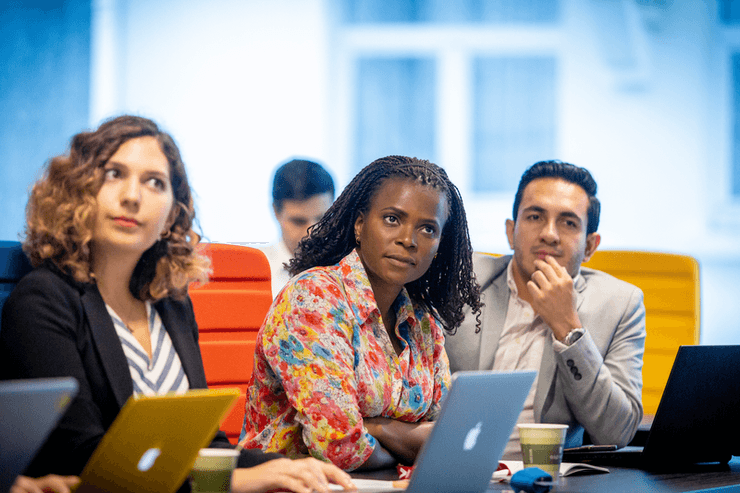 Full-time MBA
Our triple-accredited, 10-month, full-time MBA will change your life and accelerate your career path. Your journey will be hands-on and impactful – living and learning the skills, approaches and connections to become the agile leader top organisations need.