THERE'S NO PLACE LIKE VLERICK
Vlerick's Brussels campus took my breath away. It's in the city centre and has a futuristic-looking Starbucks at the front. I walked into the reception and just stood there, amazed. And, in typical millennial fashion, I took lots of selfies! I'm drawn to all things bright and colourful and the campus is an explosion of colour. It instantly puts you in a good mood – making it perfect for the wintry grey days we've had recently. Of course, the V-Bar and the ever-present pot of delicious soup helps too!
It's only been three and half months, but Vlerick already feels like my second home. The MBA cohort is so diverse it's like the United Nations of Vlerick. My classmates come from all over the world – Brazil, Burundi, Colombia, Peru, India, to name just a few. I've enjoyed our interactions both in class and socially. It hasn't always been a smooth ride, but I've learned a great deal about cultural diversity, working together and embracing and respecting our differences.
OFF TO A GREAT START
The MBA programme is really well-rounded. Some of the courses are challenging – but I appreciate I'm gaining a sound business education. Sometimes it can be demanding and a little intense – there was a time in October when I was struggling and really missed my children. But after lots of WhatsApp video calls and enormous support from my friends and family, I got through it. I'm also grateful for my supportive landlady and her family – I only met them in August but they have been so kind to me.
I really value the teaching style at Vlerick. The professors constantly challenge our creativity, push us to ask the right questions and create better solutions – and to think outside the box. I feel like I'll be able to do anything once I complete my MBA.
The highlights from the first semester have to be the company visits. Anna Riepe, the MBA Careers advisor, arranges such informative and intriguing trips that it's worth getting up at the crack of dawn for them. We kicked off with a visit to Solvay in Brussels in September before travelling to the Netherlands in October to visit Infosys Consulting and ASML. Then in November we headed to Germany to Trivago, and in December we had a very inspiring afternoon at Google Belgium and ML6.
But back to the "voice on the train". I've been really impressed by the public transport system in Brussels. I find myself daydreaming (usually on my way to and from school) about replicating it in Zimbabwe. The tram and metro have become regular features of my daily life here, even though I did get lost several times during my first few weeks. It was my own fault entirely, I didn't pay attention to the "voice" announcing every stop in three languages, French, Dutch and English. But now I know the names of all the places I've been to in all three languages!
The last three months have been life changing. My perspective on business, culture and the world around me is completely different. And I'm already looking forward to the next nine months of my Vlerick journey – including learning more French and Dutch and getting to explore the international city of Brussels even more.

Written by Ronia Murembeni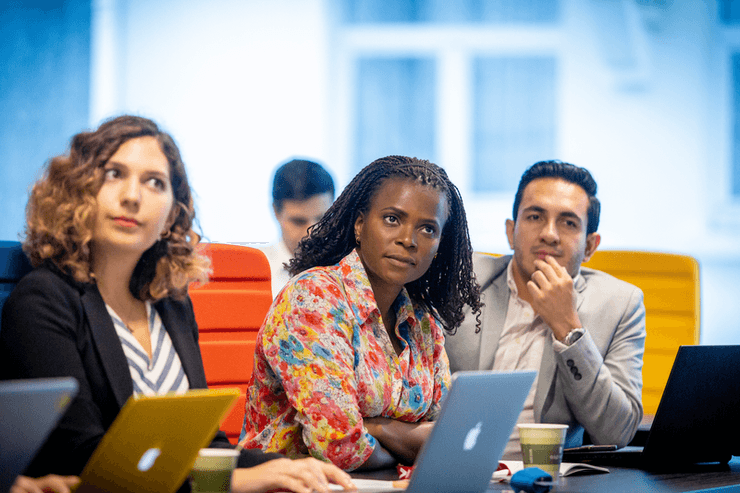 Full-time MBA
Our triple-accredited, 10-month, full-time MBA will change your life and accelerate your career path. Your journey will be hands-on and impactful – living and learning the skills, approaches and connections to become the agile leader top organisations need.