"I knew I needed to step away from research for a while," Valérie says. "Once you become a specialist, it can be hard to move to something new. So I decided to do an MBA to give myself broader career options."
Valérie wanted to work in Belgium – so Vlerick was the clear choice. She says: "Vlerick has a very good reputation and it helps you build a great network. I also thought I might want to be an entrepreneur one day and Vlerick has a real focus on entrepreneurial skills. The full-time MBA was the right programme for me – and I started in September 2018."
LIVING THE FULL-TIME MBA
An MBA is an intensive experience – but Valérie believes it's an incredibly valuable one too.

"As a veterinarian, I really learned a lot. In the beginning, I was scared that I'd find finance and economics really hard. But the core courses start with the basics – and it all depends on how much effort you put in to studying.''

"For me, the soft skills you learn are even more eye-opening than the business knowledge. The personal development you go through during the MBA is really something you only can learn on the programme – it gives you time and space to reflect."

Valérie also learned a great deal from her fellow participants. She says: "When you work with people from so many nationalities – each with a different way of working and communicating – you really have to adapt. For me, this was really valuable.''

"On the full-time MBA, everyone has chosen to pause their career and try something new. So everyone is looking for their ideal career path and discovering throughout the year what they want to do in the future. That's really nice to see."
LEARNING ON THE FULL-TIME MBA
A major element of the full-time MBA is gaining real business experience. For her in-company project, Valérie took on a strategic marketing challenge for Belgian firm, Belfius.
She says: "To start with we looked at the wider business strategy and where our project would fit. So the courses on strategy and consulting were really useful. Then of course marketing knowledge was important – we had to develop profiles of different professions and then recommend the best audience group for Belfius to target.''
"It's good that the project is towards the end of the MBA because you can put all your theory into practice – that's where you realise how much you've learned. It was very rewarding to see how impressed the company was with our work. It's moments like that where you realise you couldn't have done it without the MBA.".
MAKING THE LEAP
Less than a year on from graduating, Valérie is now launching her own start-up – with a business partner she met at Vlerick.
"I'd been thinking about starting my own company but didn't know exactly what I wanted to do," she says, "Then at a Vlerick entrepreneurship conference I met another veterinarian who was doing the executive MBA. We connected and initially decided to buy a company – but during the process we decided that with our professional backgrounds and MBA knowledge it would be better to start our own company."
Launching a start-up is a busy, challenging time – but Valérie's MBA experience is helping her every step of the way.
"Almost everything from the MBA has helped me to launch the start-up," she says. "We've had a strategy from the beginning, we know how to calculate pricing, we know how to do marketing. And we're not afraid to negotiate with suppliers. I think, in every aspect, I can draw on something that I learned at Vlerick.''
"It also really helped to talk to so many professionals during the MBA and hear what they did and where they failed. So we've already been able to avoid some common pitfalls. Of course, it's a start-up, we will make mistakes. But from the MBA we know how to think a few steps ahead – which is a great advantage."
Valérie De Clerck took the leap from veterinarian to entrepreneur. She graduated in 2019.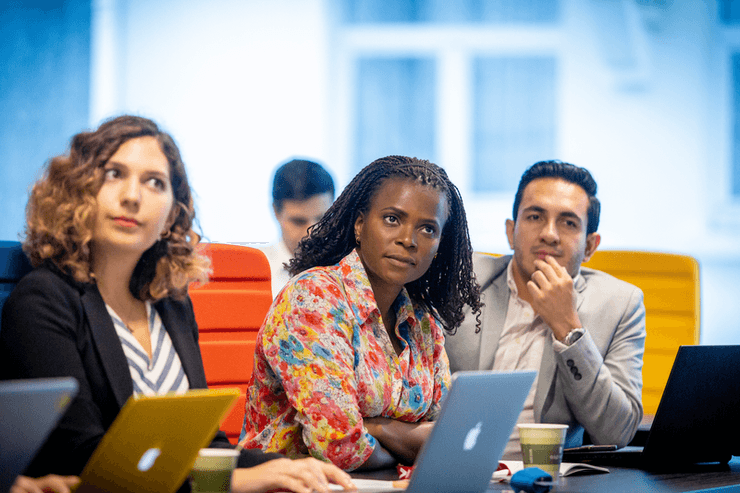 Full-time MBA
Our triple-accredited, 10-month, full-time MBA will change your life and accelerate your career path. Your journey will be hands-on and impactful – living and learning the skills, approaches and connections to become the agile leader top organisations need.