GAINING DEEPER UNDERSTANDING
"I thought an MBA would open my eyes to different types of businesses and many perspectives," Varun says. "And it did just that. It was a rollercoaster ride – fast-paced but overall a really enriching experience. It brought together 40 people from 21 countries and together we dove into subjects from HR and marketing through to finance. Many of them were completely new to me and some days were challenging. But we all helped each other out."
The importance of working together was something Varun valued throughout his MBA. He says: "I learned so much from my classmates – they were people of different ages, with different levels of experience and from diverse backgrounds. It really was an energising environment."
As well as sharing thoughts and ideas with peers, Varun valued opportunities to gain insight into international business. "I really enjoyed the trips to China and the USA," he says. "On campus we learned how Europe does business – on the trips you discover how other places do it. We got to visit global companies like Alibaba and Bosch – and seeing how businesses function differently in different parts of the world was very informative."
EMBRACING THE DIGITAL REVOLUTION
When he started his MBA, Varun wanted to get broader business knowledge so he could move away from IT. But he soon discovered there was much more to his area of expertise than he initially thought.
"In my previous role, I'd never been exposed to the variety of technology that's out there and its impact on business," he says. "I got to see this at Vlerick. The school really focuses on the business side of tech – it's one of its great strengths.'' "Vlerick helped me see where my passion lies – and it's still in technology. One of my favourite electives was Digital Strategy with Professor Steve Muylle. It was eye-opening to see how digital is evolving right now and it was a game changer for me, to find something new in a field I already know."
SAME SECTOR, NEW OPPORTUNITIES
Since finishing his MBA, Varun has stayed in Belgium – and is now a business and technology consultant at a platforms company. He says: "It's totally different to the company I worked in before. It's a very multicultural team – so my experience of working with diverse cultures has been valuable so far. I can already see the different ways of working I saw on the MBA."
"My role focuses on the business impact of technology – I can draw on my technical experience but also use my skills from the MBA. Change management is a big part of it, so the organisational change management knowledge from Vlerick is particularly useful." Varun is already planning his next steps – and hopes to move into the marketing and sales side of digital technology in the future. But he still keeps in touch with everyone from his MBA group. He says: "We meet up at least once a month and share ideas and experiences – Vlerick has given me a whole new network and friends for life."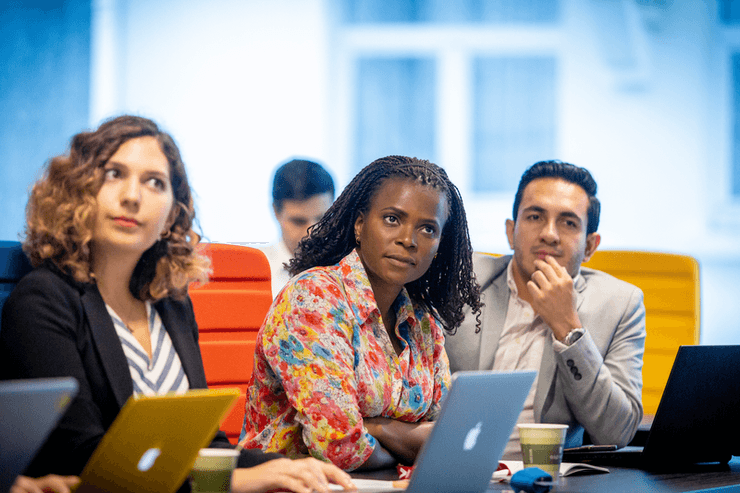 Full-time MBA
Our triple-accredited, 10-month, full-time MBA will change your life and accelerate your career path. Your journey will be hands-on and impactful – living and learning the skills, approaches and connections to become the agile leader top organisations need.