TO PURSUE LIFELONG LEARNING
Rigorously exploring a relevant, innovative research topic can be highly satisfying – and many participants choose a DBA for intellectual stimulation.

At Vlerick, DBA participants develop close working relationships with their supervisors – experts who are keen to share their knowledge of their field. They also have opportunities to meet colleagues and take part in academic conferences worldwide – as well as our own annual DBA conferences.
TO DEEPEN PROFESSIONAL INSIGHTS
If you're seeking a promotion or career change, a DBA gives you deep insights into particular business challenges – and enhances your problem solving and data analysis skills. And if your research idea aligns with a challenge your organisation is facing, a DBA programme can really benefit it – and your role within it.
TO MOVE INTO THE WORLD OF ACADEMIA
After a successful career in business – and fulfilling their professional ambitions – many executives decide to share their expertise with the next generation. And a DBA can be the perfect step into the academic world. Our DBA gives participants the opportunity to specialise in teaching by following a teaching skills track. And we also offer a research track that allows participants to enhance their academic and writing skills. But remember – a PhD doesn't guarantee a university or business school faculty position.

A key part of our DBA programme is a calendar of business events and conferences at the three partner institutions (Vlerick, Ghent University and KU Leuven) that really add value to participants and their organisations. If you're interested in pursuing a DBA, we'd love to hear why. And if you'd like find out more about Vlerick's DBA programme, join one of our upcoming DBA Info Sessions.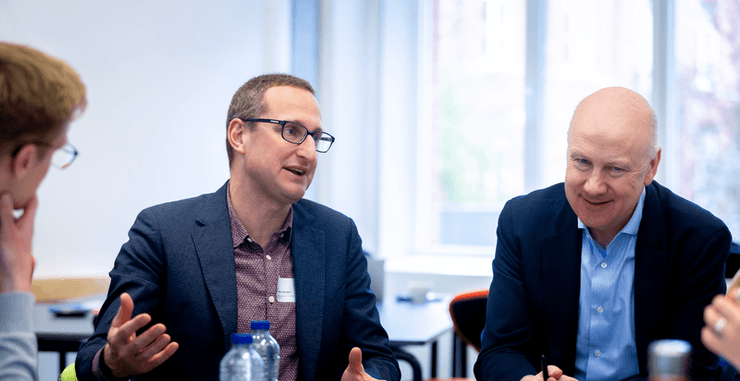 Doctorate in Business Administration
This five-year blended doctoral programme gives you the opportunity to carry out research alongside your current role. You'll live and learn the skills to dive deep into your chosen specialism, so you can take the leap into the academic world of research. You'll develop the skills and approaches to re-energise your organisation with original insights and fresh perspectives.