LUTZ WALTER,
OWNER & MANAGING DIRECTOR, THINK INNOVATION
An Executive MBA is an extremely rewarding investment in yourself. But you need to approach it with an open mind, be willing to take risks and step outside your comfort zone. It's OK to fail – if you use your failure to accelerate your learning.

It's an intensive programme and it's important to have support from your personal and professional environments. Be clear about your motivations and expectations from the start – and share your EMBA experiences with your family, friends and colleagues.
LAUREN HEEFFER,
ACCOUNT DIRECTOR, WEBER SHANDWICK
Start the MBA with an open mind! It's not really a journey you can plan in advance. One of the things I learned is that sometimes the best career option is one you haven't even heard about yet. 
KRISTOF DE MAEYER,
GENERAL DIRECTOR, ALL SPORT EQUIPMENT
After your first years as a professional, the Executive MBA prepares you for your next challenge. As well as hands-on insights into overcoming failure and dealing with uncertainty, the programme helps you figure out what your next challenge will be.
DAVI KAUR,
HEAD OF COMMUNICATION EUROPEAN ORGANIZATION FOR RESEARCH AND TREATMENT OF CANCER
Make sure you dedicate plenty of time to your MBA – there's a lot of self-study and reading involved. And network as much as you can with your fellow students and Vlerick alumni. You'll meet highly experienced people who will have valuable insights to share with you.
KSENIA ORESHKOVA,
CAMPAIGN MANAGER, MATERIALISE
I'd tell future participants to experience as much as possible. Be a sponge – absorb everything, take it all in and be open to it.
MARTIN NAUCKE,
VICE-PRESIDENT, DEKABANK DEUTSCHE GIROZENTRALE
Make the most of your time at Vlerick – get out of your comfort zone and embrace the challenge. It's also important to have the support of your family and employer behind you.
NATHALIE DE BOELPAEP,
MANAGER, ZINNEMA
People told me I was crazy to do an MBA – with a demanding job, two small children and a full social life they said I'd find the workload impossible. But they were wrong. Yes I had to skip a few social events and stop watching TV. But the time and effort was worth it. I loved spending hours trying to grasp concepts I'd never heard of and working with my fellow students. When you enjoy something, you don't mind spending time on it – even if it means missing a party or two.

Collaborating with your fellow students is crucial. You need to respect them and your deadlines and really make an effort. You quickly learn that doing something for someone else – paying it forward – can kickstart a chain reaction of generosity and thoughtful behaviour. And that brightens everyone's moods.
BENOÎT HANSEZ,
FREELANCE HR LAWYER
Vlerick's EMBA is the best in Belgium – and it gives you the tools and knowledge you need to take your career and business to new heights. But Vlerick's Executive MBA is more than just professional development. It's an exciting, personal journey where – together with your peers and with the support of the faculty – you become a better person and leader.
ZUBIN KHAMBATA,
MANAGER EXMAR
My advice for future MBA participants is to focus on the personal development side of the MBA – it will help you excel in life.
ELENA KOSTEREVA,
DIRECTOR OUTBOUND LOGISTICS, LORUS SCM
For anyone thinking about the Executive MBA I say do it. Take a break from your daily routine, dive into the colourful Vlerick environment – and make the most of new knowledge, relationships and opportunities.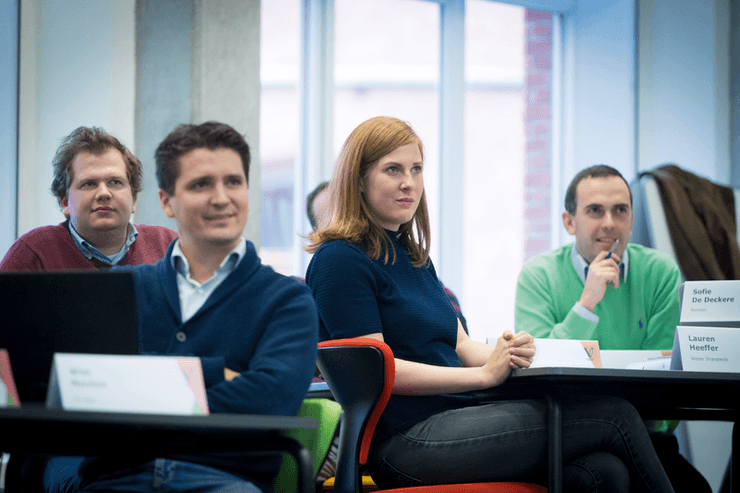 Executive MBA
Ambitious, driven and ready to fast-forward your career? But can't take time out from your professional life to study? That's where Vlerick's Executive MBA comes in.  
Our flexible programme is designed to work around your schedule. Choose the format that works for you and join us on our campuses in Ghent or Brussels – inspiring spaces where academics, executives, entrepreneurs and business leaders come to network, share insights, develop new ventures and take their thinking to new levels.