But while it can pay enormous dividends, an Executive MBA is also a big investment – in time and money. And like anything, what you get out of it is contingent on what you're prepared to put in.
So is it worth it?
That's the question we ask participants, graduates and faculty of the Vlerick Executive MBA.
Here's what they told us.
1. IT'S ALL ABOUT THE CHALLENGE.
In business, nothing stays the same. New challenges and opportunities are constantly coming towards you and your organisation. Taking an Executive MBA is a chance to challenge yourself – to rethink your approaches, your mindset and your leadership. It's an opportunity to step outside of your organisation and sector and bring your ideas and perspectives into collision with those of others. To try new approaches, broaden your thinking and drive your capacity to innovate.
2. IT'S ALL ABOUT THE SKILLS.
The Executive MBA exposes you to world-class faculty and fellow practitioners from a diversity of backgrounds. The result is a deepening and broadening of your knowledge, your understanding of business and your international mindset. Throughout this journey you also hone critical management and interpersonal skills and competencies to align teams, inspire others, accelerate performance and drive change.
3. IT'S ALL ABOUT THE ENTREPRENEUR INSIDE YOU.
The Executive MBA will stir up your start-up spirit. Together we'll explore entrepreneurship and intrapreneurship within your organisation. Who knows? You may even find the inspiration, the support and the network to launch your own venture. And talking of network...
4. IT'S ALL ABOUT THE NETWORK.
At Vlerick you join a cohort of world-class executives from a breadth of different backgrounds – curious thinkers, change agents and trailblazers from all over the world with whom you form lasting bonds and ties. You also gain full access to our 22,000 – strong global alumni network – invaluable professional contacts, support and continuous learning opportunities to help you drive your career.
5. IT'S ALL ABOUT THE QUALITY.
Vlerick is one of Europe's foremost business schools in MBA programmes and executive education. An Executive MBA from Vlerick on your curriculum attests to your commitment, your skills and your knowledge and your solid management know-how.
6. IT'S ALL ABOUT THE PERSONAL GROWTH.
Doing an Executive MBA is a transformational journey. It will challenge, stretch and ultimately change your approaches, your thinking and your mindset. A unique opportunity to grow professionally and personally, the Executive MBA arms you with the analytical tools and frameworks to reshape your future.
7. IT'S ALL ABOUT COMMUNICATION.
A key leadership skill is the ability to inspire, align, negotiate and influence others. At Vlerick your communication skills will be honed throughout your Executive MBA, and on the High-Impact Communication residential seminar. You emerge from the programme as an exceptional communicator, advisor and leader.
8. IT'S ALL ABOUT THEORY INTO PRACTICE.
Because of its flexible format, the Executive MBA drives your personal and professional growth while keeping you close to your organisation. What you learn over the course of the programme can be applied in the workplace, delivering instant impact there and empowering you to embed your learning.
9. IT'S ALL ABOUT POTENTIAL.
And that also means your earning potential. Doing the Executive MBA builds your credibility as a leader, empowering you to pursue new career opportunities and to step up into well paid positions.
10. IT'S ALL ABOUT PREPARING FOR THE NEXT STEP.
Your career will likely last many decades and you can expect change and evolution to be a function of your professional life. Taking the Executive MBA not only signals to potential employers that you are ready to take the next step in your career and to move into a more senior position, it arms you with the skills, insights, frameworks and the support network to fully own and decide your future. Wherever and however you want it to be.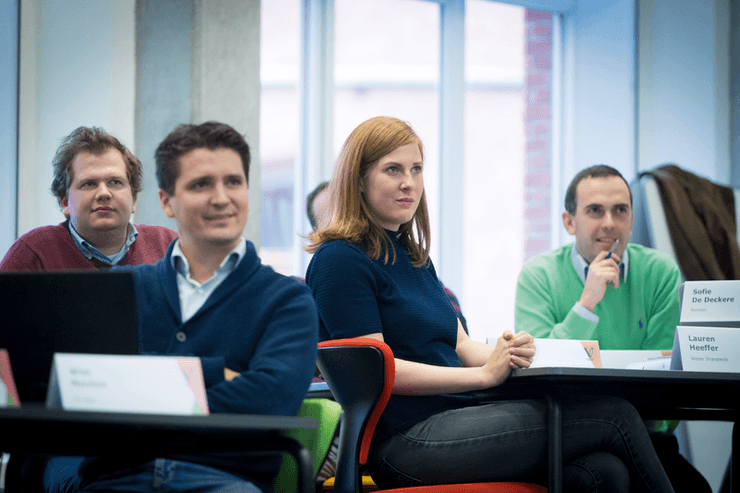 Executive MBA
Ambitious, driven and ready to fast-forward your career? But can't take time out from your professional life to study? That's where Vlerick's Executive MBA comes in.  
Our flexible programme is designed to work around your schedule. Choose the format that works for you and join us on our campuses in Ghent or Brussels – inspiring spaces where academics, executives, entrepreneurs and business leaders come to network, share insights, develop new ventures and take their thinking to new levels.