When you invest in an Executive MBA from Vlerick, the return you get can be significant. Our Executive MBA graduates see their salary go up by an average of 55% after three years of graduating – we hold one of the top positions for salary increase in Europe.  So once you've qualified, how do you go about getting a pay rise? Professor of Management Practice Barney Jordaan shares his expert insights on using your MBA in salary negotiations.
KNOW HOW YOUR MBA CAN ADD VALUE
"Your employer won't pay you more simply because you've gained a qualification," says Barney. "You need to show the value you add now you have an MBA – and why that's worth more to your organisation. "During the negotiation, talk through the topics you studied and the skills you developed. If you're already working at the company, you know what challenges it's facing – so tell your employer how your MBA experience could help you solve some of them. Show them you're worth the investment.

"You could even use the conversation to showcase your new-found negotiation skills!" Remember, if your employer gave you time off to study – or financed some of your MBA – they may be wary of giving you a pay rise. You may need to reassure them that you plan on staying at the company for a while so they know they'll benefit from your new skillset.
GO IN WITH A STRATEGY
"Negotiation is all about preparation," says Barney. There are three elements to consider.

"First, people. Who are you negotiating with? Are they a decision maker? Or will they need to relay your request to someone with more authority? When you know who you're talking to, you can plan and pitch your argument – and the information you need to convey – more effectively.
"Next, the process of the negotiation itself. Be positive – explain that you have the interests of the company at heart but you would also like to enhance your salary. Be willing to collaborate and work to find a solution that works for both sides. And ask plenty of questions. If the answer is no, that's really where the negotiation begins. Always ask why or why not – there may be a way for you to address those concerns and resolve the issue.

"Finally, the substance or content of the negotiation. This isn't just about making demands, it's about identifying what your needs and concerns really are. Why do you feel you deserve a salary increase? Is it about fairness – for example, because your MBA adds value and this should be acknowledged, or because you want to be treated on a par with colleagues who have the same qualification and experience? Or simply because of the demonstrable added value you bring to the organisation? Also, it's good to have a few issues on the table besides money, such as a new job title or benefits like flexible working. These can be traded off against each other."
BE WILLING TO COMPROMISE
"It's equally important for you to consider your employer's perspective," says Barney. "What are their issues, needs and concerns? Are there any creative proposals you can put forward that would work for both sides? Even though you're looking for a better salary, your employer may not be able to give you one. So be creative in what you'll accept. Could your salary be part fixed and part performance-related? Or could you get an incremental increase over a few months? Would you accept a bonus instead? Or a new job title – with a salary review in the future?

"Make your expectations and preferred option clear. But you're more likely to gain from the negotiation if you're flexible and open to compromise."
INVEST IN YOURSELF
Whatever your reasons for doing an Executive MBA – to boost your skillset, move up in your organisation or get a pay rise – you could get a great return on your investment if you choose Vlerick.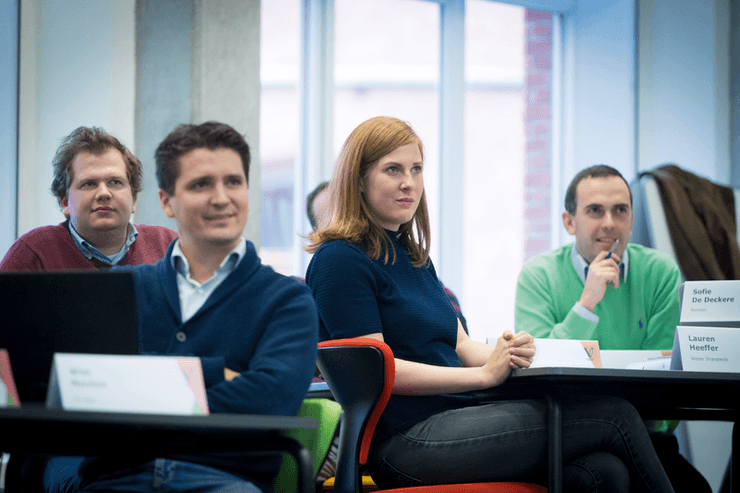 Executive MBA
Ambitious, driven and ready to fast-forward your career? But can't take time out from your professional life to study? That's where Vlerick's Executive MBA comes in.  
Our flexible programme is designed to work around your schedule. Choose the format that works for you and join us on our campuses in Ghent or Brussels – inspiring spaces where academics, executives, entrepreneurs and business leaders come to network, share insights, develop new ventures and take their thinking to new levels.