The healthcare sector is currently facing tremendous financial pressure. Healthcare costs are on the rise globally. And factors such as the increase in aging population, advancement in medical technology, as well as the current reimbursement system contribute to this rise. In addition, we see a lack of cost transparency and understanding centred around costs.
This new study by doctoral researcher Erin Roman, Professor Brecht Cardoen and Professor Filip Roodhooft analyses the variability in treatment costs for a single disease, being breast cancer, using several patient and disease related factors, to better understand cost drivers. Therefore, the research team conducted a retrospective study, analysing 14 anonymous patient files from a breast clinic in Belgium.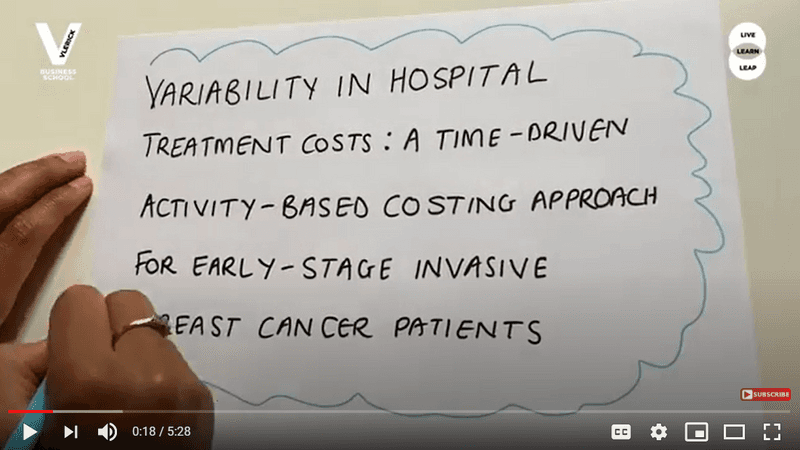 Variability in hospital treatment costs
The team found evidence that disease characteristics such as severity and more aggressive cancer forms have a significant impact on treatment cost across the different subtypes examined in this study. Similarly, patient factors such as age and presence of gene mutation contribute to differences in treatment cost variability within molecular subtypes.
This study illustrates that time-driven activity-based costing (TDABC) is a valid and practical method for assessing costs of treatment pathways in breast cancer. It is also flexible towards the classification, length and design of treatment pathways. Finally, the study shows that an adequate level of cost transparency can already be obtained with a minimum set of data. In a next step, an extended empirical analysis will validate and further quantify the drivers of cost variability within and between molecular subtypes.
This project is part of a broader research agenda that fits Vlerick Business School's interest in the philosophy of value-based healthcare: linking outcomes that matter to the patients to the costs of the full care cycle.
Want to learn more?
Read the full study 'Variability in hospital treatment costs' or join our Management for the Hospital Professional programme.