An Executive MBA is about much more than enhancing your professional skills. It's about developing your personal skills too – especially teambuilding.
Teamwork is a big part of the Vlerick Executive MBA journey. We learn the theory in classes in leadership development and building effective teams. But in our Executive MBA group, we felt that creating a strong team – with true friendships – had to happen outside the classroom to really make it work.
One adventurous classmate suggested we take on the Strong Viking obstacle run as a teambuilding activity. It pushed all of us to our limits – but we helped each other through each kilometre and over every obstacle. The run's motto is "leave no Viking behind" – and every single one of us finished as a team.
There will always be someone who's faster and stronger than you – or weaker and slower. But team players don't leave anyone behind. Instead, they help one another to reach their goals. This sums up the Executive MBA at Vlerick. We pull together and make things happen. We know we can achieve more as a group than we can alone.
We're already planning our next team activity. We've got karaoke, a wine and cheese evening and a Christmas party in the diary. And we are planning to sign up for another Viking run – because at Vlerick, we're living it, learning it and running it.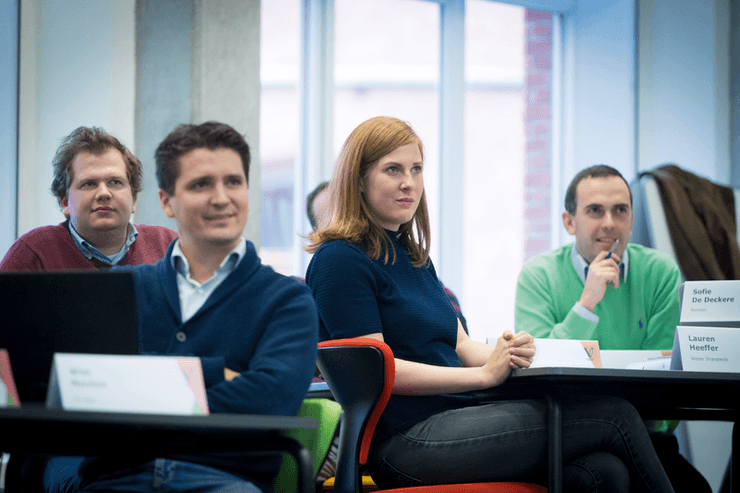 Executive MBA
Ambitious, driven and ready to fast-forward your career? But can't take time out from your professional life to study? That's where Vlerick's Executive MBA comes in.  
Our flexible programme is designed to work around your schedule. Choose the format that works for you and join us on our campuses in Ghent or Brussels – inspiring spaces where academics, executives, entrepreneurs and business leaders come to network, share insights, develop new ventures and take their thinking to new levels.