"I stand before you today filled with energy and peace. Energy because nothing can top this very moment. Peace of mind because I know now, that all the hard work of the last 2 years has been worth it. By the smiles on my classmates' faces I can see that you agree with me. But let me first add to that, that you guys look amazing this evening! You look exceptionally smart in those little black 100% polyester robes you're wearing.
WHAT I'VE ACTUALLY LEARNED DURING MY MBA AT VLERICK.
Over the past years, many people have asked me this question. The best way I can describe it - and I think my classmates would agree- is by comparing it to the five stages of marriage:  
1. FIRST, ROMANCE BLOSSOMED
From the minute we had our first dates with Liesbeth (Customer Relationship Manager Executive MBA) and Fleur (Programme Manager Executive MBA), it was love at first sight. We fell in love with the programme and the opportunities it offered us. We dove right into the MBA adventure – and signed up for a two-year marriage with full force.
2. BUT THEN, THE ROSE TINTED GLASSES CAME OFF
Once we'd committed to Vlerick, we found the road ahead was filled with challenges and killer deadlines. We had countless group assignments, essays and presentations – and had to master Word, PowerPoint and Excell.
3. HARD WORK – AND SOMETIMES HARD TIMES
We worked late into the night, functioned on very little sleep and started getting stressed. But – with the help and support of our amazing student reps, a drop of alcohol and some fantastic study trips abroad, we made it to the next stage.
4. SEEING THE FRUITS OF OUR LABOUR
All of our hard work and effort was starting to pay off. Our skillset was growing and we were getting great grades. On top of  that, Vlerick literally boosted our group's fertility rate – 20% of us had babies during the MBA. I really don't know how you guys did it – hats off to you.
5. A HAPPY PARTNERSHIP
And that brings me to today, graduation, and the end of our marriage to Vlerick. I for one am glad we signed a prenup – Vlerick might keep the money, but we get the skills, knowledge and incredible experiences. And even though we knew this was only going to be a two-year relationship, we'll definitely keep in touch.
A JOURNEY OF LEARNING
I learned so much during the MBA programme. But above all else, my Vlerick journey changed the way I see success. To be successful, you need to put cash in, before you can cash out. You need to say "yes" to the challenges that lie ahead. You face failure, rather than fear it – and use it as an opportunity to learn, try again – and get it right next time. It's a team effort. You draw on the strength of those around you – and play the long game. You'll get there in the end.
TODAY IS THE END OF A CHAPTER
It's a bittersweet moment. But remember, Vlerick didn't just teach us about management. It taught us lessons for life. This experience wouldn't have been the same without the wonderful, eclectic – and sometimes crazy – group of people I shared it with. We've created a network, memories for life and a bond based on respect, friendship, gratitude – and the odd glass of wine. Thank you.
I would like to leave you today with 2 wishes. I wish you all energy and peace for the future – energy to overcome failures, learn and go on to succeed. And peace of mind – so you can persevere and reach your goals. Finally, I'd like to thank the entire Vlerick faculty for everything they've done for us. And our wonderful families and friends who've put up with us for two years. Class of 2017, it's been an honour and a privilege to share this journey with you – and graduate with you. Congratulations".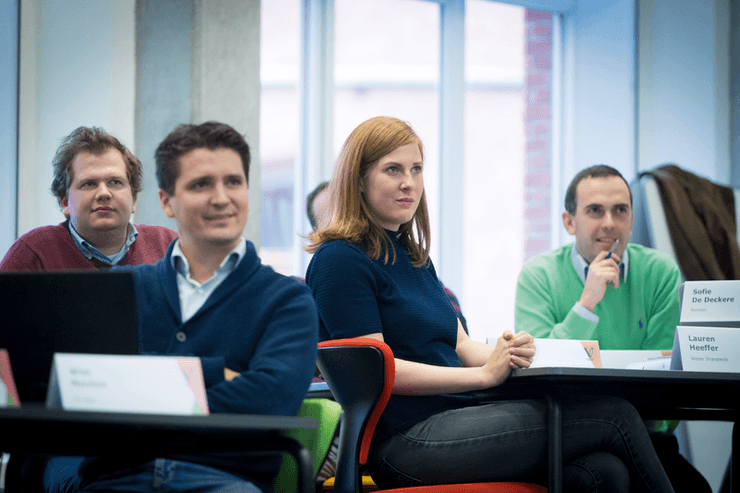 Executive MBA
Ambitious, driven and ready to fast-forward your career? But can't take time out from your professional life to study? That's where Vlerick's Executive MBA comes in.  
Our flexible programme is designed to work around your schedule. Choose the format that works for you and join us on our campuses in Ghent or Brussels – inspiring spaces where academics, executives, entrepreneurs and business leaders come to network, share insights, develop new ventures and take their thinking to new levels.