The rapidly changing business environment and the rising influence of new technologies have made it clear that 'the old way of working' is no longer feasible. Digital transformation is not only about becoming adaptive to these changes but it's also about staying adaptive. But how can companies become sustainably adaptive? And what strategic choices can they make to ensure adaptivity can be sustained? This was the topic of a webinar organised by the Vlerick Centre for Enterprise Architecture and Digital Design.
In this webinar, Pascal Dussart, independent Enterprise Architect and manager of the Centre for EA and Digital Design, exchanged ideas with Roger Stoffers, Enterprise Architect at de Volksbank. He explains how the bank is using business capability maps to create a digital organisation. The aim is to maximise cohesion and minimise coupling between capabilities – and achieve sustainable adaptability. He also explores why smart integrations are important, and why it's a good idea to make data available for near real-time analysis and to boost decision making.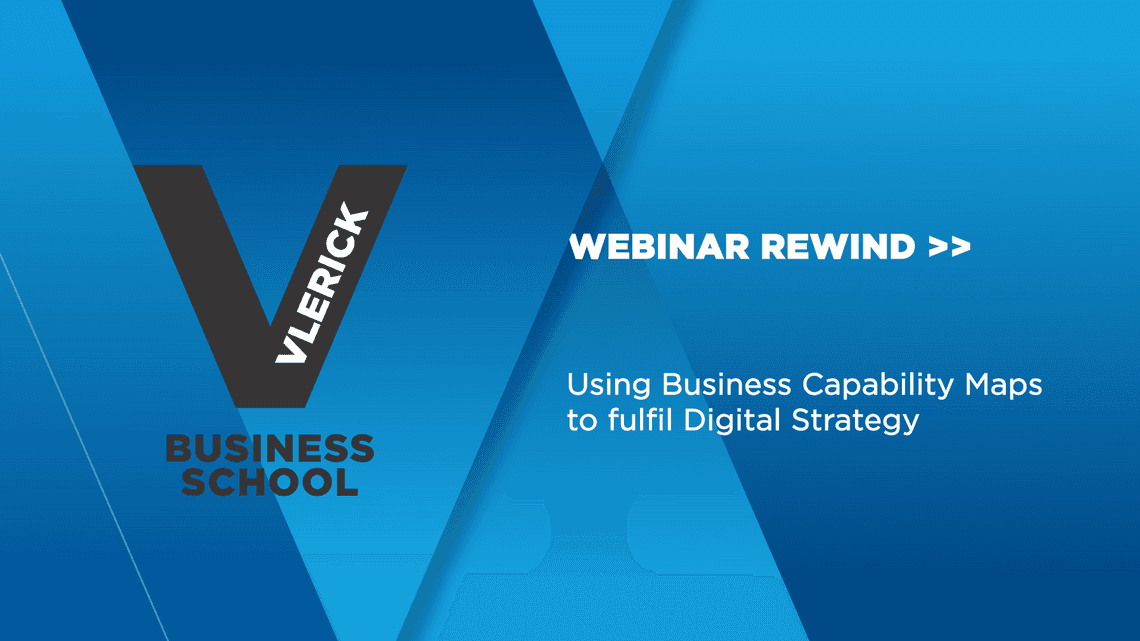 Webinar Rewind: realising a digital strategy using business capability maps
Webinars can be an inspiring source of insights – but you may not always have time to watch them. That's why we've created Webinar Rewind – a series of short videos that take you through the top highlights from our webinars. In this edition, Pascal Dussart, independent Enterprise Architect and manager of the Centre for EA and Digital Design, exchanges ideas with Roger Stoffers, Enterprise Architect at de Volksbank.
Like other companies, de Volksbank is dealing with some challenges. Roger Stoffers explains. "Currently, we have a lot of applications and complex integrations, making it very hard to change something, especially with the rapidly changing regulations. Moreover, we do not want to mess with the things that already work." Additionally, de Volksbank wants to evolve from a silo-oriented, product-focused approach to an integrated customer-centric approach. De Volksbank now aims to address these challenges by changing its digital strategy to become sustainably adaptive. 
"We had to change our digital strategy in different ways. The increasing complexity made it difficult to make changes and identify the problems. Therefore, we understood that we had to break this complexity into smaller, reusable business components so different teams can work on small changes simultaneously. Business capability mapping was one of the mechanisms we installed to transform into a digital organisation." Business capabilities and business capability mapping are concepts that often stir much debate among enterprise architects and process owners. Generally, they can be seen as reusable business components with a clear purpose, providing value and helping the organisation's strategic mission and vision. 
In summary, business capabilities are a coherent set of business processes, managed by people, responsible for key information and aided by technology. Functionality, technology, people and information are the critical components of this capability.
Roger Stoffers stressed how people play an essential part in this story. "Business capabilities should have a purpose and should provide value. In order to do that, you need skilled people to manage, operate and execute the processes and facilitate the change. More specifically, you need a multidisciplinary team that can take on the various task related to the capability." Roger Stoffers states that the enterprise architect provides the outline of the business capability, but the ownership and implementation of the capability should go to a team specifically assigned to do this task. "These teams are assigned a single responsibility of operating and maintaining the strategic development of the business capability. Each team has people with different roles, and in turn, these teams are managed by product owners, who oversee the different teams and set the strategic priorities." He acknowledges that surrounding people around a capability can be challenging. Therefore, he suggests that each capability should be assigned to a specific capability owner to ensure engagement.      
Implementing these business capabilities and changing from a product-centric to a customer-centric approach also meant changing the ownership of business processes. "Previously, end-to-end business processes were end-to-end in the hands of the product silos. Now that we are focusing on customer experience, we developed an omnichannel approach that decoupled the product silos from the customer experience. Ensuring these products arrive at the customer seamlessly is one of the business capabilities were currently working on."
From a technical perspective, de Volksbank wants to ensure seamless operations and fast and efficient communication throughout and across processes by developing standardised, interoperable interfaces. "These interfaces can have heterogeneous functionalities, but we strive to have a uniform approach for integration. If we want reusable business capabilities, we need to make sure they are built on standardised and interoperable interfaces."