LIVING THE EXECUTIVE MBA
"I had the feeling that I wasn't quite progressing at the pace I wanted," she says. "Not in terms of my position or responsibilities, but in terms of intellectual challenge. I love to learn and put myself out of my comfort zone, but I wasn't being challenged enough.
"I also thought I could benefit from learning more about core business subjects like finance and operations. Not to move into one of those functions – I wasn't after a career change in that sense. But I thought it would make me a better marketing professional, to speak the same language as colleagues and to understand business from a more holistic perspective."
Sara already knew several Vlerick Alumni. They spoke highly of the MBA and the opportunities it offered, so she met with some of the teams and visited a few classes. She says: "The minute I stepped on campus I remember feeling at ease. I really liked the vibe." Later that year, Sara enrolled on the Executive MBA. 
Sara says the MBA experience challenged her – which was just what she'd been looking for. "I took the weekend format so I didn't take time off from work," she says. "Of course, it's a challenge because you're also working full time. But I like pushing myself – and really welcomed the fact that I was challenged on how to use my time and my brain space. When I look at where I am now, one of my biggest learnings from the two years was prioritising and making the best use of your time."
Another experience that challenged Sara was working with such a diverse group of peers. She says: "I've been living and working abroad for over 15 years now, but this was my first experience in such an intense, international learning environment. It really gave me a good measure of how to tap into people's diverse talents and perspective."
LEARNING ON THE EXECUTIVE MBA
The international aspect of the MBA was one of Sara's highlights – alongside the international trips to Silicon Valley and Shanghai. She also found that the IMEx business game – a week-long simulation where participants form teams to lead fictitious companies – had a significant impact.
She says: "The simulation really teaches you how to put what you learn theoretically throughout the MBA into practice – how to manage resources, people, supply chains. My team worked so hard, we were so engaged – working through the night because we wanted to win. We all really committed to it. And we won! And we won because we rewrote the rules of the game, which also taught me to think more outside the box if you want to be successful.
"It taught me a lot about people management, how to motivate people and how a diverse group of individuals from different backgrounds with different expertise can work together. No one could have done it alone, we all contributed to the success from our own talents. The skills I learned are still ones I use every day."
MAKING THE LEAP
While she was still doing her MBA, Sara was headhunted by a pharmaceutical company – and she started her new role shortly after graduation.
"It was a great opportunity because it's a very dynamic company – there's constant change," she says. "I was given a mandate – to build the marketing function from scratch. And I thought, I can do this. This is where I can apply what I've learned on the MBA.
"I started at European level, then moved up to the US and I'm now a global director. I've been able to create a marketing structure where previously there was none, I got to hire my team. I work with people all over the world. This is challenging – you need to keep people engaged, even if they are in Japan or France they need to all be working towards one goal.
"My role is still evolving. But all of my MBA knowledge has really made me more ready. The strategy and organisational change courses helped a lot – knowing how to communicate the "why" and make sure people buy into the bigger picture. Certainly the finance knowledge has been helpful. Everything has been."
As Sara is still in touch with many of her MBA colleagues, the MBA was helpful also in creating a solid network of professionals from different fields of expertise.
"My group is still very much in touch with each other. We meet on a monthly basis and they are my sounding board for my career, but also for my personal journey. We've been on the same path, we know each other so well, we discuss challenges. Having this kind of network is worth its weight in gold."
Sara says she has already recommended the Executive MBA – and believes you get out of it what you put in. She says: "You have to have a driving force inside you that pushes you to make the most of what is offered.''
"Some people think an MBA is about accounting or trading stocks. Not at all. It's an opportunity to explore what you want to do in life – and it gives you the instruments to do it."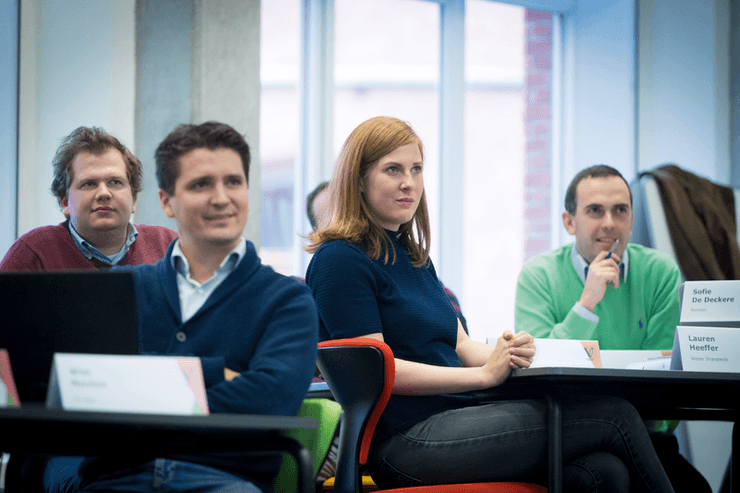 Executive MBA
Ambitious, driven and ready to fast-forward your career? But can't take time out from your professional life to study? That's where Vlerick's Executive MBA comes in.  
Our flexible programme is designed to work around your schedule. Choose the format that works for you and join us on our campuses in Ghent or Brussels – inspiring spaces where academics, executives, entrepreneurs and business leaders come to network, share insights, develop new ventures and take their thinking to new levels.