The trip is designed to immerse our Executive MBA participants in a fast-paced, agile environment where innovation is king. It gives them valuable insight into how they can develop an entrepreneurial mind set, scale up their businesses and challenge the status quo.
So what do our participants make of the place where new tech is born and world-leading companies grow? Earlier this year, Executive MBA participant Benoit Hansez documented each day of his Silicon Valley experience – giving us an inside view of this exciting, enriching week.
DAY 1: INNOVATE, INNOVATE, INNOVATE!
" Two thought-provoking lectures from Carlos S. Baradello – plus an inspirational conversation on failure in business with The North Face founder Hap Klopp. Key takeaways from day one include:
If everything seems under control, you're not going fast enough
Doctors, lawyers and other intermediaries need to be prepared for the innovation wave that's transforming their industries
Be unreasonable and reinvent yourself often
DAY 2: HATERS GONNA HATE
Digital marketing evangelist David Mitroff, Ph.D. shared his insights today. He says marketing is like dating – to attract people, you need to create a unique personal connection. He also shared other lessons:
If you don't have a website, you don't have a company
Want to boost social media traffic? Post pics of dogs, ice cream and money
Don't take LinkedIn too seriously – we're all talented, you need to let people know
We also heard from Shazam founder Philip Inghelbrecht, who shared inspiring thoughts on what it takes to get stuff done when you launch a start-up.
DAY 3: INNOVATE OR DIE
In the age of disruption, this is the challenge facing business dinosaurs in the age of disruption. We visited global companies including Cisco, Amazon and SAP to see how they're tackling it. All three companies are embracing design thinking – working with customers and following a rapid process of ideation, prototyping and testing to develop new, creative solutions. They're also transforming into agile organisations by engaging their teams and encouraging innovative thinking.
DAYS 4 AND 5: ENTREPRENEURS WANT TO CHANGE THE WORLD – VCS WANT TO MAKE MONEY
Today we listened to exciting lectures on entrepreneurship and venture capital. Some of the messages we heard this week were:
Failing forward – Silicon Valley embraces failure better than anywhere else in the world
Go big or go home
If you're not working for a start-up, you're not cool – are the people of Silicon Valley living in a bubble, believing they can change the world while ignoring reality?
Failure is fine… as long as you fail early and don't lose money
Big thank you to Veroniek Collewaert and Vlerick for this amazing learning experience."
Ready to learn more?
The study trip to Silicon Valley is an exciting element of our Executive MBA programme. To find out more, visit our website or give us a call.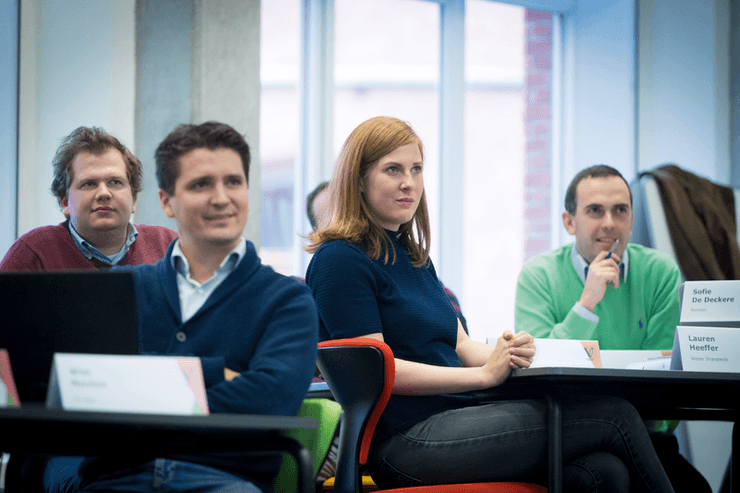 Executive MBA
Ambitious, driven and ready to fast-forward your career? But can't take time out from your professional life to study? That's where Vlerick's Executive MBA comes in.  
Our flexible programme is designed to work around your schedule. Choose the format that works for you and join us on our campuses in Ghent or Brussels – inspiring spaces where academics, executives, entrepreneurs and business leaders come to network, share insights, develop new ventures and take their thinking to new levels.